Eating Poultry & Fish May Lower Risk of Liver Cancer
NDTV Cooks | Updated: October 07, 2014 19:18 IST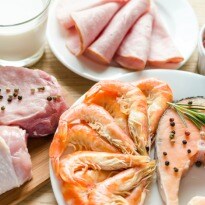 A new study published in the journal Alimentary Pharmacology and Therapeutics suggests that eating white meat such as poultry or fish may reduce the risk of developing liver cancer.

Since all the blood in the body passes through the liver, it is at a high risk of being affected by cancerous cells traveling in the bloodstream. In most cases, liver cancer is secondary which means that it starts in some other part of the body and spreads to the liver.

Through this study researchers explain, "High level of white meat or fish consumption can reduce the risk of hepatocellular carcinoma (HCC) significantly, while intake of red meat, processed meat or total meat is not associated with HCC risk."

HCC is the most common type of primary liver cancer which affects the liver cells. The incidence of HCC has become common in the past decades, especially due to the increased risk of obesity and diabetes. It occurs more often in men and those aged 50 years and above.

"Dietary interventions and lifestyle changes may be a promising approach for preventing liver cancer," recommend experts. The findings concluded that consuming more white meat reduced the risk of primary liver cancer by 31 percent while eating fish slashed the risk by 22 percent. These results are based on a collection of studies published between 1956 and 2013.
Nutritionally, fish and white meat are rich sources of unsaturated fatty acids (PUFA) and have less cholesterol and saturated fat compared with red meat.

With inputs from IANS