Google unveils its health-push with new Android app that counts activity, calories and steps, while connecting to Android Wear smart-watches and other apps

Google is the latest tech company to enter the health and fitness game with a dedicated Google Fit Android app that tracks steps and plugs into wearables and other fitness apps.

Google Fit is a free Android app that tracks health and fitness data using a smartphone's built-in sensors, but like competing apps from Samsung and Apple, it can connect to third-party apps, gadgets and services.
"You can also connect your favourite fitness devices and apps like Strava, Withings, Runtastic, Runkeeper and Noom Coach to Google Fit and we'll surface all of the relevant data in one spot, giving you a clear and complete view of your fitness," said Sabrina Ellis a director of for Google Fit, in a blog post. "No need to check one app to see your weight and another to review a run - with Google Fit, that data will all be surfaced in one, simple place."

Wrist, smartphone, tablet and browser
Google's Fit app first appeared in a very basic form built into Google's Android Wear smartwatches such as the Motorola Moto 360, LG G Watch and Samsung Gear Live. It is capable of tracking steps, recording them through the day and giving a basic history of steps through the week, as well as heart rate for those watches equipped with heart rate sensors.
Unlike Motorola's dedicated Moto 360 heart rate sensor app, Google Fit requires the user to manually measure their heart rate, rather than automatically taking it throughout at the day.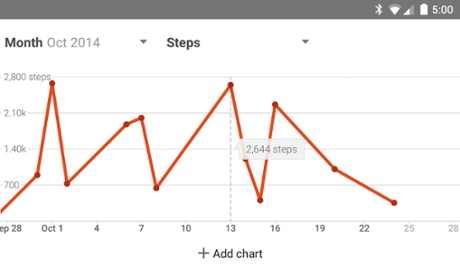 The Android app for smartphones, tablets and browsers allows users to review their history, set goals and track steps, heart rate and calories burnt like any number of other fitness tracking apps, including Facebook's Moves app and Samsung's S Health app.
But Google Fit goes beyond a simple app and like Apple's Health for its iPhone and iPad, aims to be a central data store for all fitness information pulled from third-party services. Fit will then chart runs, weight, sports, sleep and other fitness data so that it can be viewed in one place, no longer isolated in individual apps.
The first batch of apps that connect to Google Fit from Strava, Withings, Runtastic, Runkeeper, Noom Coach and others are expected within weeks.

Lucrative health market
Google, Apple, Samsung, LG and other big technology companies are all vying for a slice of the health and fitness market. The healthcare industry is a potentially lucrative market to exploit, worth about 10% of the economy of developed nations. In Britain, more than £100bn a year is spent on the NHS, according to the Department of Health.
Google Fit was first announced by Google in June at the company's I/O developer conference, following Apple's announcement of its Health Kit for its World Wide Developers Conference earlier that month. Apple's Health app launched with iOS 8.1 in September and automatically tracks steps in a similar fashion to Google's Fit.
• WWDC 2014: Apple reveals 'Health', its new app for tracking fitness and wellbeing
• Nike and Apple working on 'stylish' new wearable technology
• Misfit Shine fitness tracker review: small and perfectly formed
• Motorola Moto 360 review: beautiful smartwatch spoiled by average battery life
• Google smartwatches review: LG G Watch, Samsung Gear Live and Android Wear
• Samsung Gear 2 and Gear Fit review: smartwatches on the up


Google's new Fit app for Android tracks steps and calories, as well as collating data from third-party apps and gadgets. Photograph: Google