Millets have been a part of our cereal bowl for over 7000 years, but somewhere along the way they got lost. With the Government of India declaring 2023 as the year of the millet, they are back in focus with all the glory. Millets are seeds of grasses and are grown all over the world. Very easy to produce, they need a short period for harvesting, enrich the soil and are perfect for water-use efficiency. Today, the world is waking up to the health benefits of these magical golden grains, which have a low carbon foot print as well. In fact, they are now being added to menus at home and across restaurants because of their rich nutritional profile. To put it simply, the nutrients in millets help protect, nourish, and heal in one go. Let's look into some of the major health benefits of millets.
Also Read: 7 Quick And Easy Ways To Incorporate Millets Into Our Daily Diet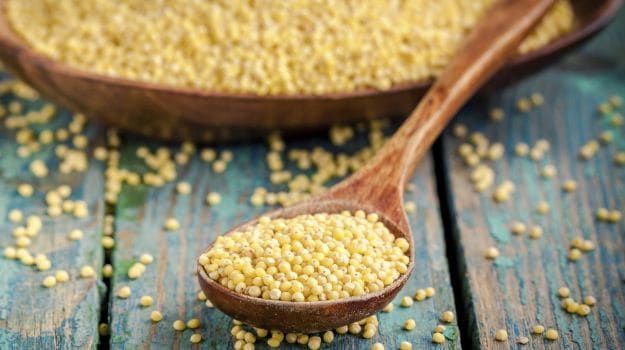 Here Are 5 Major Health Benefits Of Millets:
1. Prevents cardiovascular diseases
All millets are good sources of magnesium, which is linked to lower blood pressure, and protect against stroke. They are also rich in potassium, a mineral that acts as a vasodilator keeping blood pressure in normal range. Their high fibre content works on reducing LDL cholesterol and increasing HDL cholesterol. Millets have an exceptional phytonutrient profile whose antioxidant properties protects against heart diseases. Finger and prosso-millets have shown their ability to reduce triglycerides, a risk factor for CVD.
2. Manages diabetes
Diabetes is identified with insulin resistance and poor insulin response. Millets contain Magnesium which is associated with improving activity of glucose and insulin receptors. Their high fibre content delays digestion, lowers post meal sugar rush, and keeps sugars stable because of slow digestion. Their antioxidant capacity helps control oxidative damage and prevent co-morbid complications.
3. Maintains gastro-intestinal tract
Maintaining gut health is primary to a healthy mind and body. By adding millets we add fibre which helps with gut mobility and also acts as a probiotic for beneficial bacteria to flourish. Patients suffering from celiac diseases need to consume gluten free grains in place of wheat, rye and barley. Millets are gluten free and nourishing. Even without celiac diseases, replacing normal grains with gluten free millets help relax the gut.
4. Prevents cancer
Millets are great source of phenolic acids, tanning and phytate. These nutrients have been linked to reducing the risk of colon and breast cancer in animal studies. Fibre has also been seen to be beneficial for prevention of breast cancer and oesophageal cancer.
5. Helps detox
Almost 50 compounds have been identified in whole millet grains that act as strong antioxidants. These work by neutralizing free radicals, and cleaning up toxins form kidneys and liver. This nutrient profile is almost good enough to label the mighty millets as functional foods. The antioxidant found in millets are the highest among all grains. Another reason to include them often.
Here Are 8 Types Of Millets That Can Make Your Daily Meals Healthier:
1. Sorghum/Jowar
It contains slow digestible starch (SDS) component and ensures slow digestion, delayed absorption, prolonging satiety and prevents post meal sugar surges. With 10g/ 100 gm of fibre, sorghum also helps reduce the risk of CVD. Sorghum has a low Glycemic index, which helps reduce post meal blood glucose and HbA1c. The polyphenols and tannins present in sorghum have anti-mutagenic and anti-carcinogenic properties. This also good for controlling oxidative stress.
2. Pearl Millet/Bajra
It has a rich mineral and protein content and is used for preventing and treating stomach ulcers. The antioxidant, polyphenols and magnesium content of pearl millet makes it a good choice for preventing heart diseases as well. The magnesium content also makes it a good choice for people with respiratory ailments. Its phosphorus content makes it a must have for better bone health. Its fibre content lends well for weight management and lowering cholesterol, and sugars. And most importantly it is gluten free!
3. Finger Millet/Ragi
These millets contain the highest amounts of polyphenolic compounds. These compounds are strong antioxidants and scavenge free radicals that are one of the main causes for lifestyle diseases like cancer, diabetes and CVD. The good quantity of fibre also adds to preventing overeating and controlling cholesterol and blood sugars. Cereal rich in calcium and iron, it is good for healthy bones and helps prevent anaemia especially in children and aged people.
4. Little Millet/Samai
It is mostly consumed as rice replacement, mostly during Navratri or other fasting seasons. It is low in carbs and gets digested slowly, helping keep the blood sugar levels in check. Slow release of carbs into the blood also ensures satiety for a longer period. This is good for pre-diabetics, obese, diabetics and for people with PCOS. In addition, it is a source of resistant starch and also helps enhance gut health. Its poly phenol and phytonutrient profile make it a must have for controlling oxidative stress which leads to most lifestyle diseases. It has flavonoids that add to enhance the immune system.
5. Kodo Millet/Kodon
This gluten free millet is easy to digest, high on fibre, polyphenols, minerals like calcium, iron, potassium, zinc and magnesium. With a nutritional profile that is so rich, it benefits health by helping control weight as it fills up fast and has a delayed digestion period. It is enriched with fibre and minerals and make for a good food for diabetics and cardiac patients. Its antioxidant capacity is way above regular cereals and helps scavenge free radicals that damage our cells.
Also Read: From Dosa To Sevai: 4 Millet-Based Breakfast Recipes To Try Today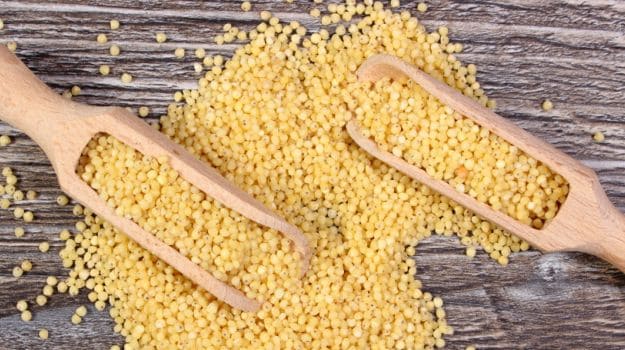 6. Foxtail Millet/Kangni
Another gluten free wonder, this grain is versatile to use. Its protein content adds to the overall muscular health. The iron-rich grain is beneficial for growing children, adolescents, pregnant and lactating mothers and older people. It contains fibre which is one of the important nutrients for tackling risk factors of life style diseases like obesity, insulin resistance, blood sugars, cholesterol etc.
7. Barnyard Millet/Sanwa
The protein present in this millet is easily digestible. Proteins are important for cells, hair, skin health and for a robust immunity. Fibre, as we all know, is essential to mitigate risk factors associated with a number of health issues.
8. Prosso Millet/Barre
Like all millets, this is also enriched with minerals, fibre, polyphenols, vitamins and proteins. It contains lecithin in good amounts and hence supports nerve health. It has a low glycaemic effect and is gluten free.


Bottom Line:
These seeds are packed with goodness and including them make your meals healthier with very little effort. Moreover, they are so versatile that you can go as creative as you want and prepare delicious recipes with a handful of millets.


Disclaimer: This content including advice provides generic information only. It is in no way a substitute for a qualified medical opinion. Always consult a specialist or your own doctor for more information. NDTV does not claim responsibility for this information.
About Rupali DattaRupali Datta is a Clinical Nutritionist and has worked in leading corporate hospitals. She has created and lead teams of professionals to deliver clinical solutions for patients across all medical specialties including critical care. She is a member of the Indian Dietetic Association and Indian Association of Parenteral and Enteral Nutrition.