Regular Exercise Can Help Patients Undergoing Chemotherapy
NDTV Cooks | Updated: September 20, 2014 17:42 IST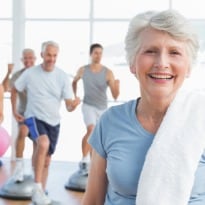 Regular exercise can not only help you with fitness and weight management but it can also help in reducing the risk of certain chronic ailments like heart disease and diabetes. Recently, a team of American researchers have found another benefit of exercising regularly.

According to a study conducted at the University of Pennsylvania, regular exercise can have a positive effect on patients undergoing chemotherapy. It can reduce cancerous tumours and help in supporting chemotherapy. The study suggests that when combined with regular exercising, the effects of chemotherapy may produce better and speedier results in patients. The research was published in the American Journal of Physiology and explained how exercising facilitates proper blood flow to cancerous cells, thereby making a smoother channel for drugs to reach and act on the tumours.

The team examined the link between regular exercise and Doxorubicin. Doxorubicin is the name of the common drug that is used to treat patients with cancer. While taking these drugs, patients may often suffer with severe side effects including extensive hair loss, nausea, vomiting and damaged heart cells. The team wanted to find out whether regular exercising can aid in combatting the side effects of chemotherapy.The experts carried out experiments on a melanoma mouse model and concluded that combining exercise with chemotherapy shrinks tumours more than chemotherapy alone.
"The immediate concern for patients is the cancer but then when you get over that hump, you have to deal with the long-term elevated risk of cardiovascular disease," said Joseph Libonati, an associate professor with University of Pennsylvania.

"If exercise helps in this way, you could potentially use a smaller dose of the drug and get fewer side effects," Libonati noted.

In future, this study can help taking a positive step in developing drugs that could aim at delivering the effects of exercise.

Inputs from IANS