Some Antibacterial Soaps May be Harmful
NDTV Cooks | Updated: August 21, 2014 13:54 IST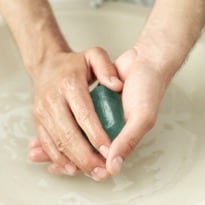 If you thought your job ends at buying an antibacterial soap, think again!

Washing your hands is the first and foremost step in good hygiene, but according to a study published in the Journal of Occupational and Environmental Medicine, using an antibacterial soap laced with the wrong chemical might backfire. Next time you go shopping for an antibacterial soap, look out for a chemical called 'triclosan'. Triclosan is a synthetic antibacterial agent in hand sterilization products that is known to be extremely harmful. It can also cause serious developmental issues in newborns and fetuses.

Triclosan is commonly found in thousands of consumer products, including soaps, cosmetics, acne creams and certain brands of toothpaste. It not only makes the soap ineffective, but also toxic. According to researchers, exposure to triclosan is currently under review by the US Food and Drug Administration (FDA).

Paul Blanc, a professor of medicine at University of California San Francisco said, "Antimicrobial soaps can carry unknown risks and triclosan is of particular concern. Our study shows that people absorb this chemical at work and at home, depending on the products that they use."

During the study, researchers analysed urine samples from two groups of 38 doctors and nurses at two different hospitals. The first hospital used an antibacterial soap containing 0.3 percent triclosan while the other used plain soap and water. Researchers found that workers at the first hospital had significantly higher levels of triclosan in their urine than workers at the second hospital.
The researchers found that washing with antibacterial soap accounted for higher triclosan levels than brushing with toothpastes with triclosan.

Blanc suggested that people use triclosan-free soaps or use plain soap and water.

With inputs from IANS