This Compound in Wine May Help Treat Osteoporosis
NDTV Cooks | Updated: November 03, 2014 12:58 IST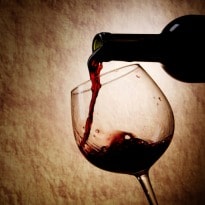 Resveratrol, a natural compound commonly found in wine and grapes, has long been under the spotlight of health experts for its healing properties. Previous scientific studies have established that this compound can help fight free radicals associated with ageing and have anti-inflammatory and anti-cancer properties.

According to a recent study, resveratrol has been credited with destroying the energy source of cancer cells. This is not all, a new research shares another piece of good news. Scientists have found that resveratrol may protect against bone loss which can help in devising a new treatment for osteoporosis.

A team of researchers from Denmark examined the effects that resveratrol could have on men with metabolic syndrome. Metabolic syndrome raises the risk of developing heart disease, stroke, diabetes and has been linked to low-grade inflammation that can cause bone loss. Metabolic syndrome has also been linked to osteoporosis development. The team found that resveratrol increases spinal bone density in men with metabolic syndrome.

"Our study is the first to reveal resveratrol's potential as an anti-osteoporosis drug in humans," said one of the study's authors, Marie Juul Ornstrup of Aarhus University Hospital in Aarhus, Denmark.
"Our findings suggest the compound stimulates bone-forming cells within the body," Ornstrup said. The randomised, double-blinded, placebo-controlled trial assessed bone mineral density and signs of bone formation and resorption in 66 middle-aged men with metabolic syndrome.

Experts tracked men with metabolic syndrome over a period of 16 weeks. Some of them were given a 500-milligramme dose of resveratrol whereas others were either on a 75-milligramme dose of the compound or on a placebo. The participants were directed to take their prescribed medication twice a day for 16 weeks.

Towards the end of the experiment, it was seen that men who took the highest dose of the compound - 500 mg - had a 2.6 per cent increase in their lumbar spine volumetric bone mineral density as compared to the other participants. The group also experienced a 16 percent increase in the levels bone formation marker bone alkaline phosphatase (BAP)

"In just four months on high-dose resveratrol, we saw significant improvements in bone mineral density at the spine and elevated levels of the bone formation marker BAP. These are encouraging results. Additional research is needed to assess whether these bone protective effects occur in populations at risk of osteoporosis during the course of long-term treatment"
Ornstrup concluded.

Inputs from PTI