As you drive into Chandigarh, you can't help but agree to the popular claim of it being the best planned city in India. The wide streets covered by a canopy of trees, the many gardens and parks, and the beautiful houses in every corner, each unique in design, make you gape in wonder. It is indeed a refreshing change to not have to make your way through crowded roads packed with all sorts of noisy vehicles and people – characteristic of many other Indian cities.Chandigarh is a new-age city and that is very evident because the architecture speaks up for it. A quick chat with the locals helped us learn that Le Corbusier, the Swiss-French architect who designed the city, themed it around a living organism wherein the Capitol Complex (government buildings) represents the brain of the city; Sector-17 as the heart for it is the bustling hub with shopping malls, hotels, restaurants, and bars; the numerous gardens are the lungs; so on and so forth. Each sector is well-planned and well-equipped, catering to the needs of the people. Make sure you take some time out to see the Open Hand Monument, symbolic of the city and representing peace, harmony and unity among mankind.When it comes to the culinary scene, there are some stunning restaurants and cafes serving delightful Global fare, especially European, American and Asian. Here again, the modern architecture of the eateries contributes to making the dining experience memorable. Simple yet so chic, the charm of minimalist design is sure to leave a deep impression on you, especially if you have an eye for art and aesthetics. Having said so, there are also numerous little eateries serving rustic yet absolutely delicious local food, where you wouldn't mind sitting at a roadside table to dig into butter dripping
paranthas
and hot
tikkas
.Here's a roundup of our favourite places to enjoy a meal while visiting the union territory -
1. Nik Baker's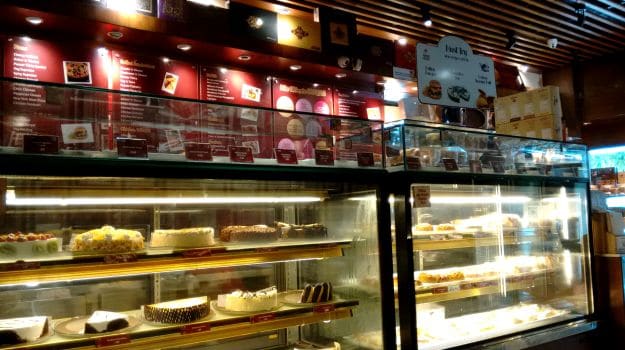 The extensive range of pastries and cakes
For those of you who love baked treats, this place is a must-visit and they have plenty on offer. You can drop by for a quick nibble of quiches and tarts, or have a hearty meal of burgers, sandwiches, pizzas and pastas. They serve all-day breakfast and their waffles, pancakes and croissants are delicious. The Mutton Cheese Burger here is highly recommended. Besides all the decadent pastries and cakes, my personal favourite include the brownies, cheese straws and tequila filled handmade chocolates.
Multiple outlets: Sector 9 and Sector 35; Meal for two: Rs:1,500
2. Whistling Duck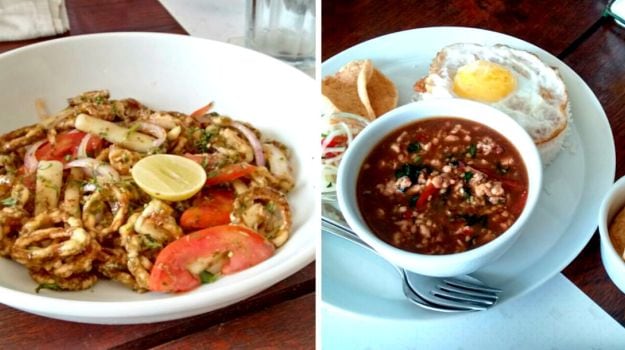 Quirky Karela and Kra Prow; Photo courtesy: Dishant Bhasin
If you love big spaces, ample sunlight and community tables, then the Whistling Duck is the best option, particularly for Sunday brunch. The menu offers a global fare, from gyozas, gnocchi, pork chops and burgers to
malai tikkas
and
keema pao.
Some of the dishes sound very interesting and they do live up to the hype too, such as the Quirky Karela we tried, which was a sort of bhel with crispy bitter gourd rings and raw mango relish; and the Dak Bulgogi, which was juicy, Korean-style chicken picattas tossed in sweet and spicy barbecue sauce. The Rendang Curry and Burgers are worth trying too. They also have a selection of innovative cocktails, although they didn't impress us as much as the food.
SCO 10, Back Lane, Sector 26; Meal for two: Rs:3,500
3. Hops n Grains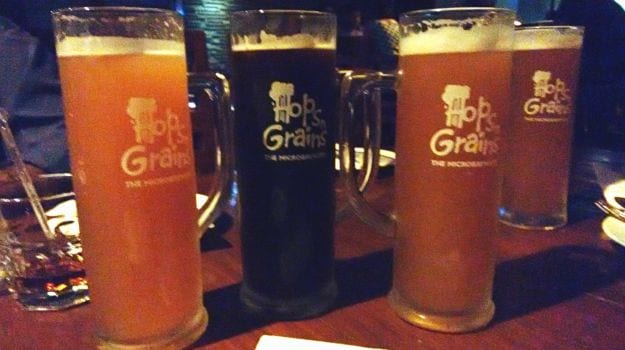 The in-house brews
The first microbrewery in the city, from the outside it may seem ordinary but as you step in, the chic interiors and the vibe of the place are sure to turn up your energy levels. From their in-house brews you can choose Premium Lager, Weiss Beer or Dunkel (Dark) and they have happy hours till 7:30 pm. I tried the Premium Lager, which was light and malty, while those who love strong beer should definitely go for Dunkel. The menu offers a wide range of finger foods ranging from the international classics to desi favourites - such as Beer Batter Prawns, Buffalo Chicken Wings, Amritsari Fish, Tandoori Bharwa Aloo, Seekh Kebabs, Nachos, Mezze Platters etc.
SCO 358, Sector 9, Panchkula; Meal for two: Rs:3,000
4. Virgin Courtyard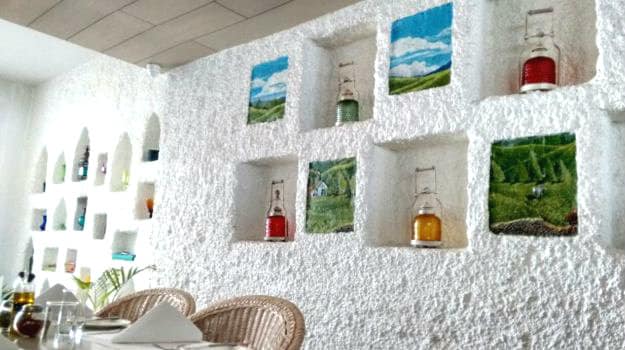 The quirky decor at Virgin Courtyard; Photo courtesy: Dishant Bhasin
The white and blue décor makes you feel like you are dining in some Mediterranean country. This is the perfect place for a dinner date and they offer an Italian fare. The quirky design elements and artefacts also lend to the charm of the place. Some dishes that are worth trying include Red Wine Chicken Risotto, Oven Roasted Pork Loin, Mustard Cheddar Crusted Sole, Spaghetti Aglio Olio and the pizzas. But what you absolutely cannot miss is the tiramisu. It is excellent with the perfect blend of coffee, cream and sugar.
SCO 1A (Backside), Madhya Marg, Sector 7; Meal for two: Rs:3,500
5. Backpacker's Café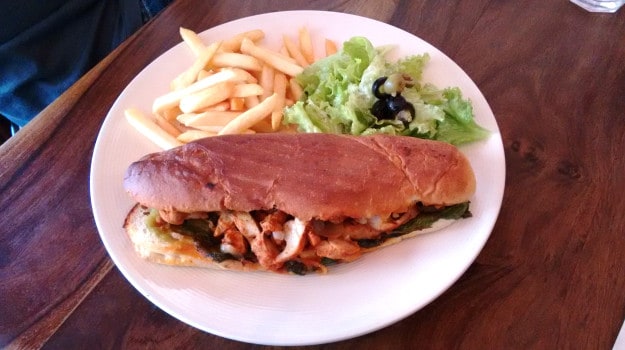 Chicken Tikka in Grilled Garlic Bread
Rustic yet charming, this little café is the place to head to for a hearty breakfast. It is mostly thronged by foreigners and their all-day breakfast menu is extremely popular. You can kickstart your day with Bangers and Mash, or Accelerators, which is a stack of cinnamon and raisin pancakes doused in maple syrup. The omelettes here are delicious and they come with a variety of fillings. The menu also includes Quiche Lorraine, Cheesy Lamb Burgers, Club Sandwiches and grilled dishes.
Multiple outlets: Sector 9D and Elante Mall; Meal for two: Rs:2,000
6. Monica's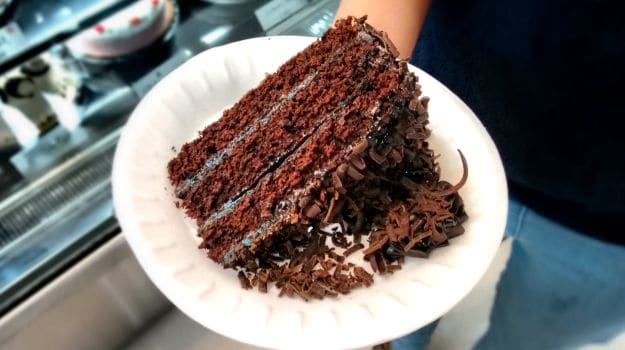 The Mud Cake
This quaint bakery may fool you with its size, but it offers some spectacular cakes and pastries. It is one of the oldest in town, and has a loyal fan following. The double chocolate, apple walnut, dark cherry, and opera cakes are popular, but it is the Mud Cake (a chocolate lover's treat) which you must try. The dark chocolate cake layered with rich chocolate ganache is hard to resist. Ask them to warm the slice before serving it to you for a molten decadence.
Multiple outlets: Sector 8 and Sector 35; Meal for two: Rs:800
7. Pal Dhaba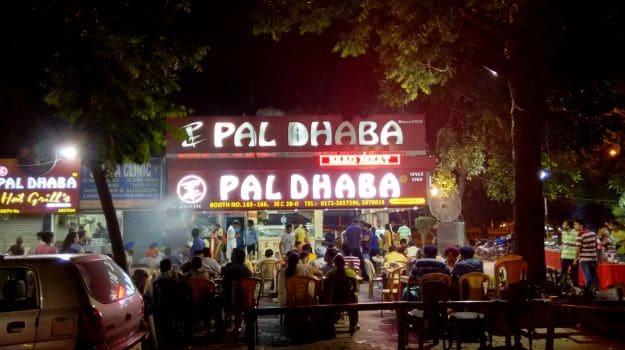 One of the most popular local eateries; Photo courtesy: Dishant Bhasin
Away from all the modernistic structures, stands the humble Pal Dhaba, one of the oldest eateries in the city. A look at their hall of fame and you learn that it is immensely popular among Bollywood celebs too. In the same vicinity they have three different dining sections, the roadside sit-outs being most in demand. We tried the Aloo Parantha and Butter Roti, which came dripping in
desi makhan
, and paired them with Kadai Paneer, Dal Makhani, Rogan Josh, and Keema Kaleji. The dishes here are aromatic and lip-smacking good; no wonder they are so famous!
SCO 151 & 152, Sector 28; Meal for two: Rs:1,200
8. The Willow Café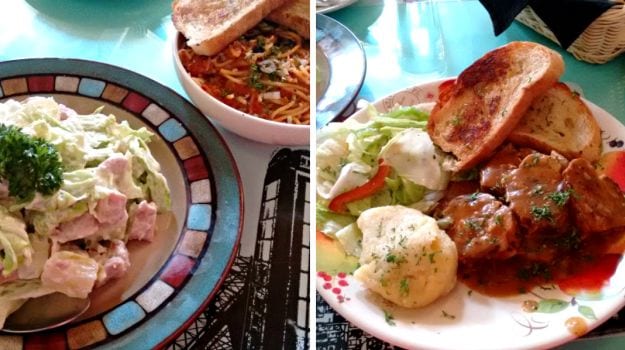 Roast Chicken, Pineapple and Cheese Salad and Spaghetti Bolognese; and Chicken Ballontine
Owned by the same people as Whistling Duck and Backpacker's Café, this quirky eatery is a popular choice to grab a quick lunch or meet some friends over coffee. We picked a table at the basement section, which was done up in a cheerful colour palette. The menu offers an interesting selection of dishes, from all-day breakfast to pastas and grills. We tried the Royal Velvet Chicken Soup, Crispy Potato and Bacon Salad, Chicken Ballontine (moist chicken served with roast gravy and mashed potatoes), and Spaghetti Bolognese. The food here is home-style and delicious. If you want to laze around and read a book, then you'll find it apt.
SCO 1, Sector 10; Meal for two: Rs:2,000
9. Brooklyn Central
The NYC-style resto-bar
Located in the courtyard at Elante Mall, this American-style resto-bar is popular with the locals. The urban industrial set-up teamed with simple décor creates a casual space to catch up with friends for a drink or a fun lunch. The open kitchen adds to its charm. What's worth trying? Cinnamon French Toast, Brooklyn's Pancakes and Waffles, All American Corn Chowder Soup, Hearty Gumbo Soup, hot dogs, and grills. The menu also offers popular dishes from across the globe in case you are not in the mood for pub grub. The cocktails here are worth trying, and if you have some specific flavours in mind, the bartenders are happy to shake up something special for you.
Courtyard, Elante Mall; Meal for two: Rs:3,000
10. Swagat Restaurant and Bar
Fish Curry
Steering away from the cafés, this elegant restaurant serves North Indian, South Indian and Chinese, although they are popularly known for their Coastal Mangalorean fare. Some of the must-tries include Koliwada Prawns, Chicken 65, Mangalorean Gassi (made in coconut-based gravy with your choice of fish and meat), Malabari Fish Curry (made in spicy tamarind-based gravy), Chicken Ghee Roast, Mutton Sukka, Chettinad Biryani,
appam
and Ceylon Parottas.
SCO 7, Madhya Marg, Sector 26