Earth Day 2014: Stop Wastage, Save Mother Earth
Seema Chandra , NDTV | Updated: April 23, 2014 10:57 IST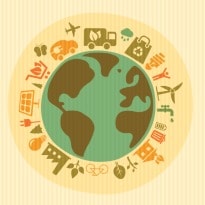 On this day, you revere Mother Earth. Nature. Your environment. The climate. The soil. The air. You pause and see where we are headed and how we can make our surroundings better. It's a day that you show respect for the world that you live in.

This year, April 22nd, 2014, the theme for Earth Day is - Green Cities. With more and more of the world's population migrating to cities, there are serious concerns about sustainability, climate change and resource allocation. If you look around our cities are bursting at the seams. We need urgent solutions to make our cities greener, look at renewable energy sources, manage our garbage, make transportation more efficient, organize recycling and conservation drives. We absolutely must take all the steps that are needed to make this massive transition of the world's population to the cities smooth and sustainable.

Every year on April 22nd, over a billion people from across the world take part in Earth Day. Some organize clean up drives, others plant trees, collect garbage or contact local officials who can help change policy to make a difference. This global movement is about the greater good.

At www.ndtvcooks.com, we pay tribute to Mother Earth in a miniscule way, by urging you to stop food waste and learn to cook with leftovers. When you waste food, you are essentially wasting precious resources like land, water, labour, energy and capital.

Today the developed rich countries waste almost as much food (222 million tonnes) as the entire net food production of sub-Saharan Africa (230 million tonnes). In developing countries, like India the wastage is more to do with inefficient harvesting, storage and cooling techniques. Whatever may be the reason, and wherever may be the waste, it's time we make a consolidated effort to stop throwing our food. Think before we make a grocery list. Plan our menus in advance. Eat whatever is on the table. Use leftovers for the next meal. And Save our planet.

Our motto for 2014 - Think. Plan. Eat. Reuse. Save. Here are a few recipes that put leftovers to good use -

Pasta Sandwich
Recipe by Aditya Bal

Have a plateful of pasta left from last night's dinner party? Use it as a sandwich stuffing for breakfast next morning.



Fish Tikka Salad
Recipe by Aditya Bal

No need to fret over the fish tikkas sitting in your refrigerators! Spicy fish tikkas tossed with mushrooms, baby potatoes and red peppers will make you a simple yet satisfying meal.


Panini with Leftover Chicken
Recipe by Vicky Ratnani

What can I do with leftover chicken? Lots! Think a quick grab-and-go chicken panini lathered with a freshly made tomato-eggplant chutney.



Quick Quesadilla
Recipe by Payal Khandekar

A smart way to use up leftover chappatis - turn them into a Mexican dish. Packed with crunchy veggies, cheese and red chilli sauce, chappatis are fried crisp in butter.


Kebab and Paneer Pizza
Recipe by Andy

All the leftovers from your BBQ party can make you a wholesome meal the next day. Pizza topped with kebabs, paneer chunks and a freshly made tomato sauce. Who said you can't get the best of both worlds?


For the latest food news and recipes, like us on Facebook or follow us on Twitter and get the NDTV Cooks app for Android or iOS.