Watching the ICC World T20? Here are our 3 quick one-pot meals for you to dig into.Do you believe that there is no better feeling than curling up on the couch with a beer in hand whilst watching the ICC World T20? That's because you're yet to indulge in a warm bowl of something delicious with good ol' uninterrupted cricket on TV. Oh, the joy of one-pot meals! No pressure to rush back to the dinner table for seconds or clean up afterwards. Don't believe us? Here are 3 recipes that will make the next 20 days of your life so much better. Picture this: MS Dhoni, Virat Kohli, Shahid Afridi, AB de Villiers, Yuvraj Singh, Chris Gayle, Rohit Sharma, David Miller, Suresh Raina on the tele and some dreamy Teriyaki chicken spruced up with rice or a Vietnamese steak topped off with vermicelli in a bowl to keep you company.Now, the entire country may come to a standstill when India's playing the ICC World T20, but these hearty one-pot meal ideas are sure to blow your mind. We love how each part of the dish works in tandem to deliver a range of complex flavours in every bite. So stop drooling and start cooking. (Then grab the remote, and get ready for a cozy night in as India plays its first match today)!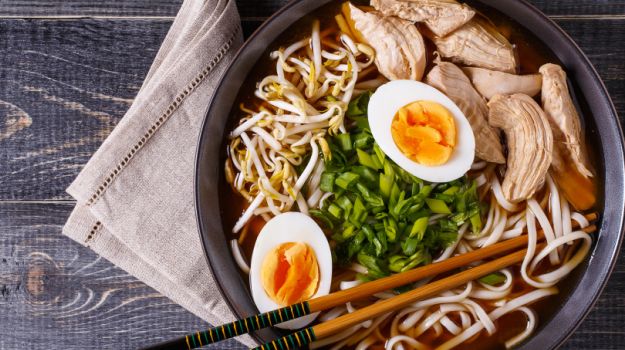 1. Khao Suey
Recipe by Chef Janti Duggal
You'll have this Burmese delicacy bursting with authentic flavours in no time, with a generous squeeze of lime and peanuts for that added crunch. Garnish this
coconut
-y one pot meal with fried
garlic
, and dig in.
Ingredients:
500 gms of boneless chicken
4 Tbsp chickpea flour or besan
1 Tbsp vegetable oil
4 Tbsp onion paste
1 tsp garlic paste
1/2 litre of chicken stock
2 packets of coconut milk powder
1 Tbsp red chilli powder
1 Tbsp sesame oil
Salt (to taste)
Noodles (cooked)
Red chillies
A splash of soy sauce
Toppings:
Boiled potatoes (chopped)
Boiled eggs (chopped)
Sauteed onions
Roasted peanuts (finely chopped)
Lemon juice
Spring onions
Coriander, chopped
Browned garlic, shredded
Red chilli paste
Soy sauce
Instructions:
1. Add four spoons of chickpea flour or besan in a pan, and let it brown on medium heat. The colour will turn medium orange. Keep aside. You can store this in an airtight jar for weeks.
2. Put oil in the pan. Add 2 tbsp onion and garlic paste and a liter of chicken stock.
3. Add salt and let it simmer. Then mix coconut milk and let it boil for sometime.
4. In the meantime, dissolve the roasted besan in half a cup of water. Then add it to the above mix.
5. Take another a deep pan, add oil and then the chopped garlic. Add the boneless chicken. Add red chilli powder and salt to taste. Stir fry the chicken till it's cooked.
6. To make the red chilli paste, burn a few red chillies a little oil and pour 2 tablespoons of dark soya sauce. Grind it in a mixie, till it's coarse.
7. Now put noodles in a bowl, add the chicken and soup, then garnish with toppings (according to taste).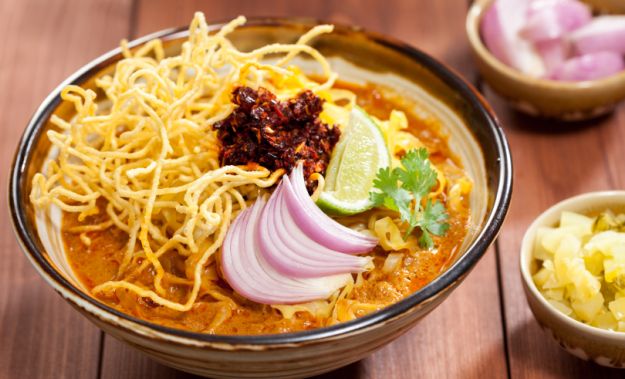 2. Chilli Con Carne
Recipe by Manju Malhi
Minced lamb cooked with onions, tomato puree, beans and flavoured with garlic, coriander and a whole lot of chilli. Serve on a bed of steamed rice and voila!
Ingredients:
4 dried red chilies
4 Tbsp olive oil
500 gm minced lamb
1 large onion, finely chopped
4-6 cloves garlic, finely chopped
2 Tbsp ground coriander
2 Tbsp ground cumin
1/2 tsp salt
1 tin kidney beans, drained and rinsed
4 Tbsp tomato puree
1 tin-chopped tomato or 4 fresh tomatoes, finely chopped
500 ml chicken stockInstructions:1. Soak the dried chilies in 100 ml of hot water for about 20 minutes and reserve the water. Then chop the chilies finely.
2. Heat the oil in a large pan and fry the onions and garlic until softened.
3. Add the spices, salt, chilies and tomato puree to the onions and fry together for 2-3 minutes.
4. Add the mince and fry until the mixture is well browned. This should take about 10-15 minutes.
5. Tip in the beans and mix thoroughly.
6. Add the tomatoes, chicken stock and reserved chili water, stir well and simmer for 5-7 minutes.
7. When it's reached the consistency you prefer, remove from the heat and serve with rice and a little soured cream dip.For sour cream dip recipe: Click here
3. Chicken Biryani with Coconut Milk
Recipe by Chef Divya Burman Ingredients:500 gm basmati or jeera rice
500 gm chicken
1 onion (chopped)
3 tomato (chopped)
5 green chillies
5-6 strips cinnamon
6-10 cardamom
8-10 cloves
1 tsp fennel
10 cashewnuts
1/2 tsp garam masala powder
1 tsp chilli powder
1/2 tsp turmeric powder
2 bay leaves
2 tsp curd
2 tsp ginger-garlic paste
200 ml coconut milk
1 spring curry leaves
1 spring coriander leaves
A few fresh mint leaves
Salt to taste
15 ml oil
2 Tbsp ghee
Instructions:
1. Wash Basmati rice and soak it in 800 ml of water for 15 to 30 minutes.
2. Wash chicken and cut into small pieces. Add chilli powder, 1 tsp ginger garlic paste, curd and salt. Mix well and keep aside for 3 to 4 hours. Marinating the chicken overnight is advised.
3. Heat oil in a big pressure cooker. Add cinnamon, cardamom, cloves, cashew nuts, fennel and fry in a slow flame till the cashew nut color changes slightly brown.
4. Add chopped onion, green chillies (slit vertically) and curry leaves and continue frying till the raw smell of onion subsides.
5. Add chopped tomatoes, remaining ginger-garlic paste, garam masala, turmeric powder, coriander leaves, mint leaves, salt and continue frying in slow flame till tomato get mashed well.
6. Add chicken and continue frying till the chicken gets slightly cooked.
7. Add basmati rice and continue frying for 2 minutes.
8. Add water in which we soaked rice and coconut milk. Bring to boil and pressure cook for 8 to 10 minutes.
9. Remove from heat and transfer to a big plate.
10. Add ghee and mix well.
11. Serve hot with korma and
raita
.