India has become a haven for progressive culinary offerings, and now more than ever, the country is brimming with fabulous restaurants, may it be contemporary Indian or Asian or even Bengali cum Armenian. In March 2015, the winner of Asia's 50 Best Restaurant List was Kolkata-born Chef Gaggan Anand with Chef Manish Mehrotra's Indian Accent in New Delhi ranked at no. 22 and Wasabi by Morimoto in Mumbai at no. 29. The chefs behind these esteemed restaurants might spend their nights carefully planning the next plating, but when the last floor mat is rolled up and chefs call it a night, they prowl the motley contents of their refrigerator just like the rest of us or end up at their go-to restaurants in town. Here are the off-duty snacking habits of 8 top Indian chefs.
1. Chef Manish Mehrotra of Indian Accent, Delhi
Maggi. That's the only food I can cook after a long tiring day. Or else, assemble Bhel Puri at 2 am and watch some ridiculous dubbed Madrasi film for half an hour to get my mind off everything. On a rare night off, I even head to Pavilion @ ITC Maurya for a drink.
2. Chef Gaggan Anand of Gaggan, Bangkok
I do love eating at Khua Kling Pak Sod Southern Thai Restaurant in Bangkok or digging into the Chicken Biryani at Go-Ang Kaomunkai, but nothing can beat street food in India. Especially the
chaat
at Vardaan Market in Kolkata.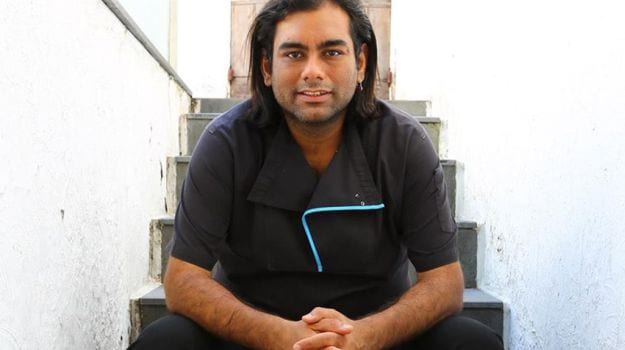 3. Chef Marut Sikka of Delhi Club House, Keya and Kainoosh, Delhi
For me, it's a mix of most things, be it eating at home or at restaurants. If you look at the top restaurants around the world, even El Bulli, they all have special menus designed for the staff with simple options. After all the fancy food, you just want some comfort food. And I'm a sucker for
ghar ka khanna.
Yes, I enjoy my sushi once in a while at Town Hall or the food at Blue Ginger or Orient Express or Amaranta, but there's nothing like going home to Rajma Chawal or Daal Chawal after a tiring day.
4. Chef Sabyasachi Gorai of Lavaash by Saby, Delhi
When I'm off duty, I just like to keep it simple yet nutritious and comforting. I love to cook some kind of dish with eggs for a quick meal, be it egg with oats for breakfast, or egg noodles for lunch and dinner. I often make one pot meals like a slow-cooked chicken and pasta stew, or Chicken Biryani, or
khichdi
spruced up with greens. I try to avoid flour and cheese.
5. Chef Manu Chandra, Chef-Partner Monkey Bar, The Fatty Bao and Executive Chef Olive Beach
When I get off work in the wee hours of morning, I just cook a portion of instant noodles and head to bed (and who can blame him)!
6. Chef Thomas Zacharias of The Bombay Canteen
I'm a diehard fan of various kinds of
chaat
and could eat it everyday. The roadside stall on 14th road in Khar is my go-to
chaatwala
where I usually polish off multiple plates of Pani Puri, Bhel Puri and Papdi Chaat on every visit.
7. Chef Vicky Ratnani
I'm a diehard fan of
kebabs
and Nihari in Lucknow! And when I'm not working, I stick to home cooked food. I love to lap up vegetables with Bajre ki Roti, Sindhi Kadhi Chawal and needless to say, Rajma Chawal is my favourite.
8. Chef Kunal Kapoor of DIYA at The Leela, Gurgaon
I'm big on comfort food and a fan of fresh breads, especially
parathas
. And my indulgence? A piping hot Ajwain Parantha served with a spicy
saag.