Julie Powell rose to fame by cooking recipes but inspired scores of people with her recipes for success. Julie Powell started out as a food blogger and became a ground-breaking author before she died at the age of 49 in Olivebridge. If you've seen the Oscar-nominated movie 'Juile & Julia', starring Meryl Streep and Amy Adams, you would have nothing but admiration for Julie Powell who dedicated her life to the culinary world. We pay homage to her by looking back at her journey to becoming a world-famous food author.


Julie Powell dedicated an entire year to cooking all the 536 recipes from Julia Child's book 'Mastering the Art of French Cooking'. She chronicled her journey in the blog 'Julie/Julia Project' in the year 2002 on Salon.com. In her first post, she wrote, "365 days. 536 recipes. One girl and a crappy outer borough kitchen," she wrote. "How far will it go? We can only wait. And wait. And wait... The Julie/Julia Project. Coming soon to a computer terminal near you."


The popularity of the blog led to her writing the book 'Julie & Julia: 365 Days, 524 Recipes, 1 Tiny Apartment Kitchen', which was later adapted into the famous movie 'Julie & Julia'.
The fact that Julie Powell was an amateur cook when she set foot in the kitchen, inspired many others to learn the art of cooking without professional training. Revealing her personal experience, Julie Powell wrote on Salon.com, "For me, what I became more interested in was how my life began to inform my cooking and what I came into the kitchen with from my day," she said. "I don't know if I would have ever come to that realisation if I hadn't been keeping a blog. If I'd just written in a journal, I'm not sure I would have finished, because the communal nature of the blog definitely kept me going."
First Recipes That Julie Powell Cooked:
Describing her initial struggles with cooking, she mentioned in a blog how she started cooking Juile Child's recipes by picking the simpler ones. "If you are going to master the art of French cooking with Julia Child, you are going to start with Potage Parmentier-potato and leek soup. Just sliced potatoes and leeks simmered in water for close to an hour, then mashed with a fork, seasoned with salt and pepper, and enriched with cream or butter. You may be tempted to skip it-you know all about potato and leek soup, after all."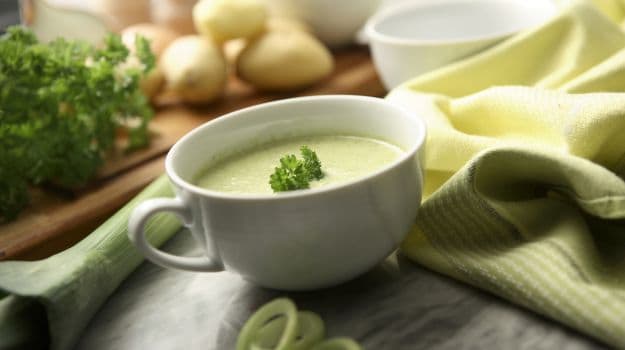 And it was poached eggs that she first had to get the hang of to recreate Julie Child's recipes. "I just slipped the eggs into the simmering water and gently urged the whites over the yolks with a spoon. And after going through two dozen eggs and three poached-egg recipes (including one in which I had to poach them in red wine, which not only was really hard but also turned the finished eggs a disturbingly cadaverous blue), I could make poached eggs that were...well, not perfect. But they held together."


(Also Read: 9 Tips To Make a Perfectly Poached Egg)
And then Julie Powell graduated to making quiche. "Quiches with tomatoes and olives and anchovies and leeks. By the end of the quiches, I could whip the stuff up in seconds, and my crusts turned out buttery and golden and flaky and perfect."


After having her fair share of disasters before nailing the simple recipes, Julie Powell mastered every recipe ranging from quail to lobsters. And the rest is history.