A 9-to-forever job, the kids' pick-up drill, that last-minute meeting at work and not to mention the torturous traffic - the last thing you want is to sweat it out in the
kitchen
. If you need a quick and yet healthy dinner, the best ideas would be the ones that can be executed without stopping by at the
supermarket
and whipped up from whatever is available in the refrigerator.Combining the flavours of gourmet cuisine with the comforts of
home cooking
, there is nothing like food that can be rustled up with the toss of a wok, without fancy ingredients. These quick and healthy recipes combine fresh ingredients with pantry staples for a
complete meal
you'll feel great about eating, and even better while rustling up, because you actually beat the clock putting it together.
POTATO AND LEEK SOUP
Serves 4Ingredients:
·
Potatoes
- 300gms
· Leek and white onions - 300gms
· Vegetable stock - 350 ml
· Cream - 100 gm (if you like)
· Butter - 40gm
· White Onion - 20gm
Method:
1.Take a pan and add
butter
slice, white onion and sauté.
2.Then add leeks,
potatoes
, cream, veg stock and cook well.
3.When it's ready, blend and season according to taste.
4.Add
thyme
or dried mixed herbs to taste and serve.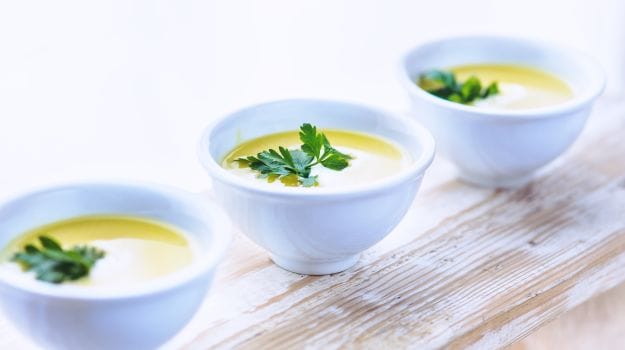 CONFIT PRESSED CHICKEN WINGS
Serves 4Ingredients:
· Chicken Wings - 1kg
· Chicken Fat - 1 litre
· Thyme - 8 gm
·
Garlic
- 5 gm
· Salt to taste
Method:
1.Take a pot, add fat,
chicken wings
, thyme, garlic and salt.
2.Cook it for at least 2 hours. Then pick the
meat
from the bone and press it in a container overnight.
3.Cut into a desire shape and sear it and serve with honey mustard sauce.
4.For Honey Mustard Sauce: Take a bowl, add 2 tablespoons of honey, soya sauce, grain mustard and salt. Mix well.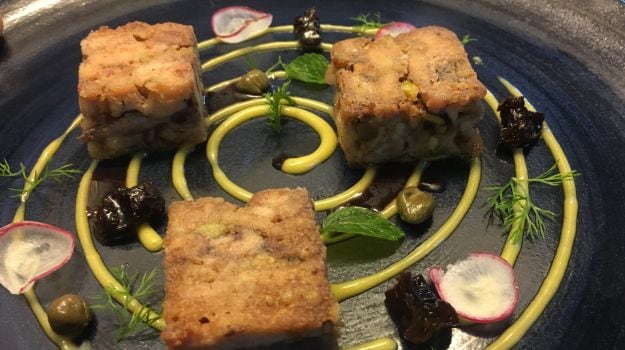 CHICKEN MAYO ON CROUTONS
Serves 4Ingredients:
· Poached Shredded Chicken - 200 gm
· Mayo - 110 gm
· Grain Mustard - 20 gm (4 tsp)
· Worcestershire Sauce - 3 ml (2/3 tsp)
· Tabasco - 3 ml (2/3 tsp)
· Assorted vegetables - chopped white
onions
, capers, gherkins - 15 gm
Method:
1.Take a bowl and add
chicken
, mayo, grain mustard, Worcestershire sauce, tabasco, gherkin, caper and mix well.
2.Serve on top of the croutons. Garnish with
parsley
.