Jaipur is both historically fascinating and aesthetically striking. It is the heart of Rajasthan, one of India's most flamboyant states. Between rugged hills and besieged walls is a city bursting with colourful streets, chaotic bazaars and touristy buzz. In the midst of this mayhem, Jaipur's fairy-tale grandeur is calm evoking.Built by Sawai Jai Singh II, a Rajput king, it is indeed India's first planned city. The majestic palaces and impressive architecture narrate many stories of kings and kingdoms. They offer hours of exploration that need to be followed by hours of indulgence.The food in Jaipur reflects indigenous traditions that are complex. Rajasthani cuisine has churned the best from royal kitchens and is tailored to an arid existence. For instance, hunting expeditions led to the ritual of serving game meat, spiced and slow-cooked like the Lal Maasor Banjara Gosht. Elaborate meals gave birth to the quintessential
thali
that is an integral part of the dining experience that comes complete with soothing curries, hot breads and accompaniments. Another signature dish is the Ker Sangri, a combination of bean and berry that grow in the desert, along with dried wild leaves flavoured with shreds of dried mango, fresh turmeric, red chillies and tints or coriander seeds.
(10 Best Rajasthani Recipes)
The food is as rich as the culture with generous doses of
desi ghee
, milk and yoghurt. Since fresh veggies are scarce, you'll find heavy use of grains and pulses like the Gatte Sabzimade with gram flour or the famous Dal-Bati-Churma. Besides regional delicacies, a new wave of contemporary cafes has gripped the city. With a heady brew of old and new, chic and rustic restaurants, you'll be tickled pink.
(The City of Nawabs: An Extravagant Iftar Trail in Lucknow​)
1. Sanjay Omelette
Not just for breakfast, you can eat eggs all day, every day and they show you how. Don't let the humble atmosphere steer you off course. The place is owned by Mr. Sanjay Sharma who was also one of the participants of MasterChef India and has been serving the city for over two decades. Tucked away in the backstreets, it does a winning line in everything made with eggs – from curries to omelette, parathas to rolls and even pizzas. The egg pizza is quite something and my personal favourite. You'll be amazed to see the variety of dishes and flavours. Burgers, sandwiches, salads or soup – just put an egg on it. The Obama Omelette is another attraction, made with white and brown bread and topped with melted cheese. *Drool*
Address: B 18 & 19, Janta Store, Bapu Nagar
2. 1135 AD
This restaurant lives up to its name. The imperial ambience with regal chairs, gold enameled walls and magnificent tables takes you back in time. The elegant decor and romantic outdoors create a perfect ambience to watch the sun go down in style. The stunning view makes you forget yourself and so does the food. Their menu comprises a mix of Mughlai, Rajasthani and North Indian delights. Food is served on silver plates with silver cutlery to reflect royalty. The Lal Maas really stood out. It was so tender that the meat was falling off at the bone. The Jungli Maas, Sula Biryani and Paneer Aftab certainly hit the spot.
Address: Level 2, Jaleb Chowk, Near Sheela Mata Temple, Amer Palace, Amer
Photo Credit: Facebook/1135 A.D. Amber
3. Anokhi Cafe
This cheerful bistro with nostalgic decor is a local favourite. There is something about its monastic simplicity. It's a great place for a quick escape with the healthiest food in town. The café serves freshly baked breads, well-dressed salads, loaded sandwiches and cheesecakes with organic ingredients grown locally at their farm. The Coffee Cake with coffee cream filling and Khao Suey are worth going back for. Wash it all down with one of their freshly squeezed juices. This place is ideal for those feeling weary after a hectic tour.
Address: C 11, 2nd Floor, KK Square, Prithviraj Road, C Scheme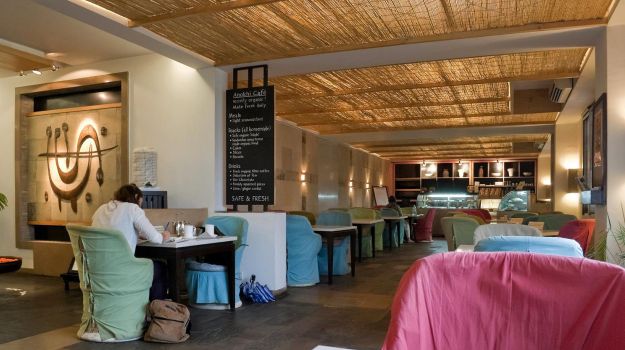 Photo Credit: Facebook/Anokhi Cafe Jaipur
4. Laxmi Mishtan Bhandar
Just around the corner of the busy Johari Bazaar, LMB offers some excellent local eats. It has always been in the sweet spot (pun intended!). It is famous throughout town for Rajasthani specialties like a variety of ghewars and milk cake. From kachoris to Mirchi Vada and everything in between, soothe your street food cravings here. It's a pure vegetarian restaurant; the idea was to serve satvik food that can also be offered at temples. For local flavour, try their Rajasthani thali with Dal-Bhati-Churma and Paneer Ghewar.
Address: 100, Johari Bazaar
5. Tapri Central
This lively cafe is definitely a hotspot for the young lot. This easygoing little place serves home-style quick grub without a major wound to your wallet. The interiors are edgy and the menu is very creative with a new-wave of fusion treats like Flowery Flirt Tea, Cheese Puchkas and Pesto Khakra Pizzas. Familiar ingredients are thrown together in surprising combinations. The Ishpecial Vada Pav with cheese and chutneys is a real steal.
Address: B4 E, 3rd Floor, Surana Jewellers, Opposite Central Park, Prithviraj Road, C Scheme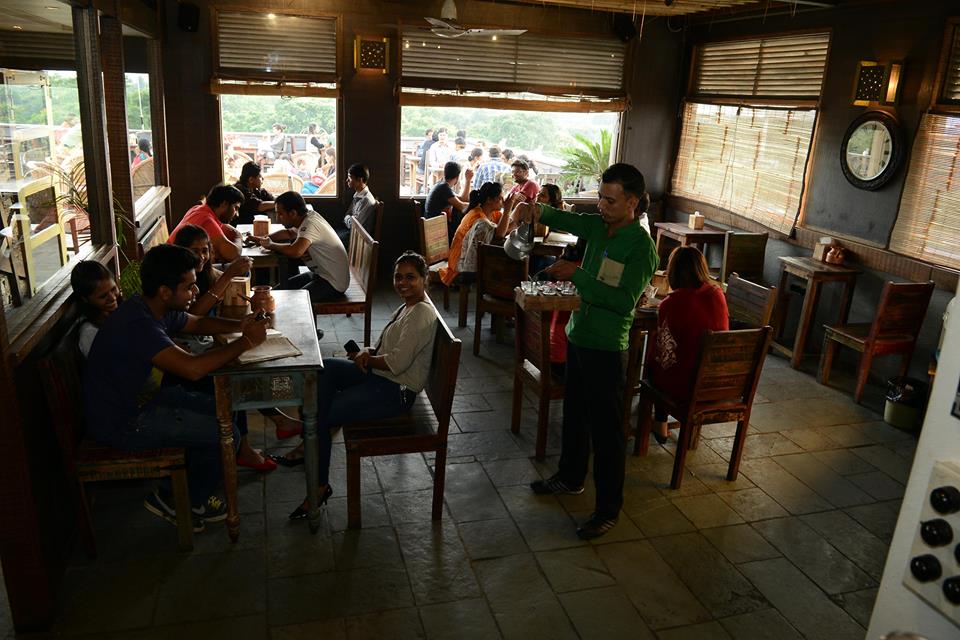 Photo Credit: Facebook/New Tapri
6. Brown Sugar
With woody interiors, hip music and good coffee, Brown Sugar is another chic café. It's a great place if you're looking to catch up with some old friends. The bakery keeps the counter filled with breads, cakes, pizzas and more. The Nutella Pancakes were divine.
Address: Aurum Apartment, Tilak Marg, C Scheme, Jaipur

Photo Credit: Facebook/Brown Sugar - Bakers & Cafe
(The Parsi Trail: Top 7 Parsi Restaurants In Mumbai​)
7. Rawat Mishtan Bhandar
This outlet is best known for its Onion and Dal Kachoris. This quintessential street snack exemplifies the earthy flavours of Rajasthan's cuisine. At the very sight of these crunchy-golden kachoris, I was sold. Layers of crispness stuffed with browned onions and lentils will make it difficult to tear yourself away.
Address: Opposite Polovictory Cinema, Station Road, Sindhi Camp
8. Spice Court
Set in a pristine courtyard, this place serves up a fantastic array of Rajasthani dishes. The Jungli Maas is a traditional tribal recipe where mutton is cooked with red chillies, garlic, onions and ghee. It was deep in flavour and left my lips tingling. The Lal Maas was excellent. Also, try the Keema-Bati. It is another version of the Dal-Bati where flour rounds are fried and stuffed with a spicy keema-mix.
Address: Achrol House, Jacob Road, Civil Lines, Jaipur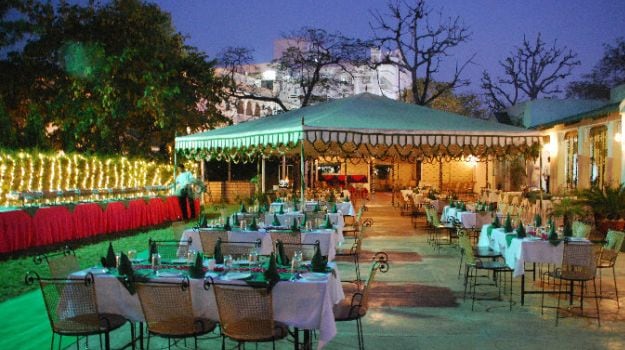 Photo Credit: Facebook/Spice Court Restaurant
9. Dragon House
This critically acclaimed restaurant is known for some great Asian food with focus on Thai and Chinese cuisine. Inside it's not much of a looker but the menu is good. The dim sums and Thai salads are delicious picks, though I found the prices of some dishes a bit steep. Come here for a Thai-style meal to break from the monotony.
Address: Khasa Kothi Circle, M.I. Road(Food Trail: Our Hunt For The Best Chole Bhature in Delhi​)
Night Life
If you plan to head out for a drink, there are some places that are especially captivating in the evening. Replay at Tonk Road has created quite a buzz ever since it opened its doors. This pub-style music venue is quite welcoming on weekends. Colour Bar in Raddison Blue is bright and modern. The food is not top notch but the rooftop with a pool side and coloured lights offers a nice and breezy atmosphere to enjoy a drink (or two, perhaps). They also have a live pasta station and barbecue grills. Palladio at Hotel Narain Niwas is gorgeous, beautifully blue and brimful of charm and history. The large and relaxed tents in the outdoor are designed for slumping. The décor doesn't really compliment the Italian menu and the food was a bit timid.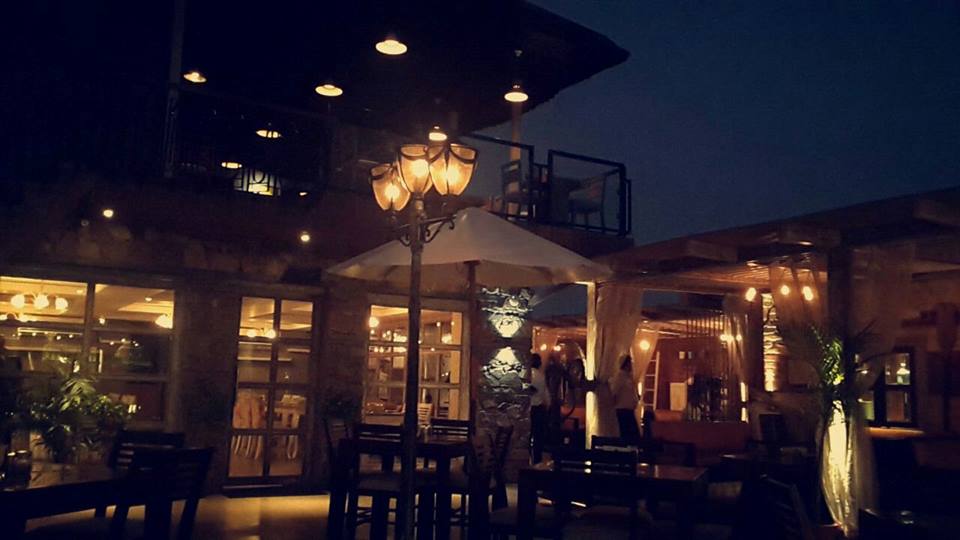 Photo Credit: Facebook/Replay JaipurDid I miss out on your favourite? Let me know.