Rajasthani Recipes: India is a land of diversity, a country that bristles with different cultures, ethnicity, traditions and flavours that steam and simmer in local kitchens. We try to dissect and present forth one of the most celebrated and diversified aspect of this vibrant country - food. Accompany us on a gastronomically enchanting journey, as we explore what cooks in the desert-land of the country- Rajasthan and what Rajasthani cuisine has to offer.

From golden deserts, majestic forts to a rich cultural heritage, such is the land of warriors. Rajasthan has always thrilled us, from the bright colors displayed against the pale backdrop of heat to the sparkling desert sand. Food forms an essential component while describing any place and it's often a reflection of its topography coupled with the socio-historical culture.

A large part of the state is inhabited by the Marwaris, who prefer vegetarian food. You can stumble across some of the most tempting shakahari bhoj in different parts of the state. Pyaaz kachori remains as one of my staple favourites. Known as the land of Rajputs, the state is evidently under a heavy influence of Rajput delicacies including fiery hot meat curries and mouthwatering desi desserts. Rajasthani cuisine uses a lot of ghee. If you happen to be in Rajasthan anytime soon, don't miss out on dal baati churma, pyazz kachori, gatte ki sabzi, papad ki sabzi. For those who live on meaty delights, laal maas, safed maas, banjari gosht are a must try.

Rajasthan is a dry area, hence a lot of food preparations use less water and more of milk, curd, butter milk or cream as substitutes. This is peculiar to most of the Rajasthani delicacies and renders a special creamy texture to the food preparations. Rajasthanis are also heavily dependent on lentils, grains and gram flour. Apart from mutton and chicken, wild boar and hare are also used into preparing some of the most authentic and dangerously spicy curries.

Surprisingly, sweets are not an after meal affair in Rajasthan, rather they are served along with the main meal. Specific sweets are popular in each region - Mawa Kachori of Jodhpur, Rasogullas of Bikaner, Ghewar of Jaipur, Malpuas of Pushkar and so on.


Here are the top 11 Rajasthani recipes that you can prepare at home:
Tender fish pieces are marinated in a green paste, fried and further cooked in a mouth-watering gravy full of spices and silky texture of cream. This fish curry is a delight to relish at special occasions and dinner parties.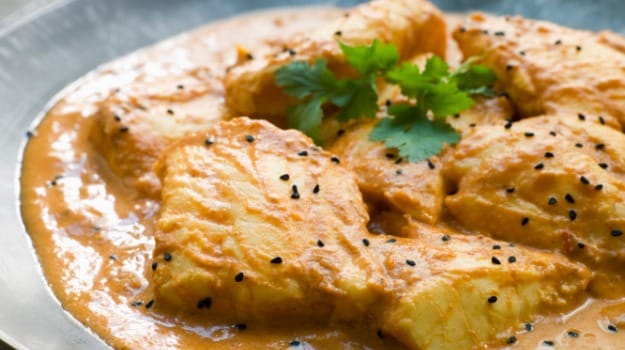 Give your taste buds a flavourful shock with this Rajasthani gem.

Laal maas is a fiery combination of mutton, hot spices and a burst of red chillies. This bright red coloured delicious dish garnished with coriander leaves and a good amount of ghee looks extremely appetizing.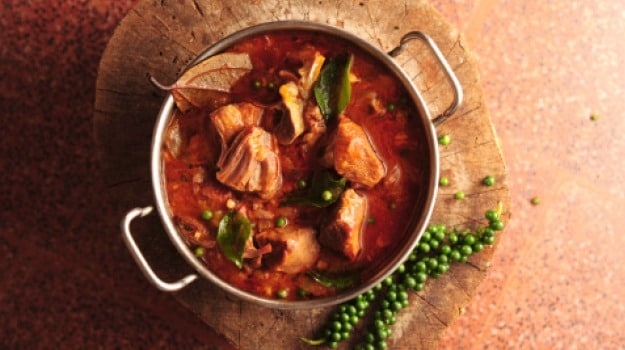 The legendary red meat curry of Rajasthan.
The authentic flavors of garlic, red chilli, turmeric and coriander marinated with juicy mutton pieces. Pair with naan or rice and watch this dish being an absolute crowd pleaser!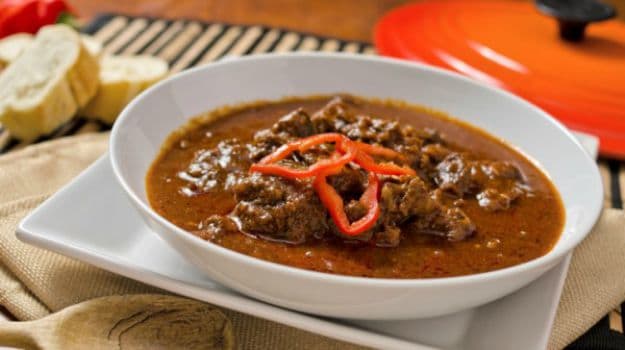 This mutton dish will dazzle at your dinner table!
A scrumptious Rajput dish, gatte are basically cooked gram flour dumplings dipped in the spicy curd gravy. It can be served for lunch or dinner parties as well along with naan or rice.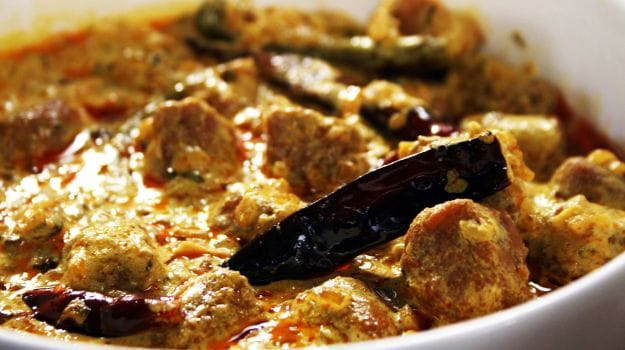 This mouthwatering delight is full of spices and flavors that you just can't resist.
A quick, easy and tangy curry, Aamras ki kadhi has mango puree blended with buttermilk and besan, topped with boondi and a tadka of desi spices.

Comments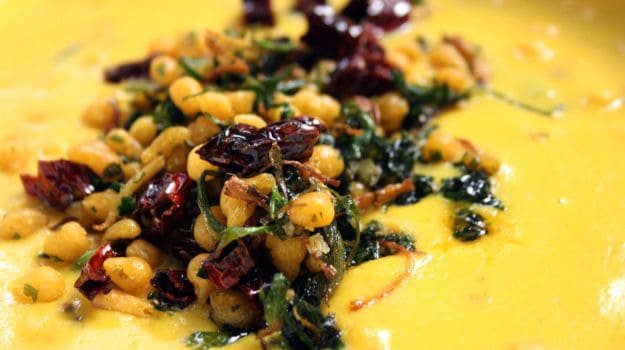 This is a great option to cook for a hearty Sunday lunch, served with hot chapatis or rice.
Experience the flavourful brilliance of traditional safed maas cooked to perfection. Tender chicken pieces simmer in a delighting concoction of desi masalas and a generous helping of
cream, milk, curd and cashew nuts.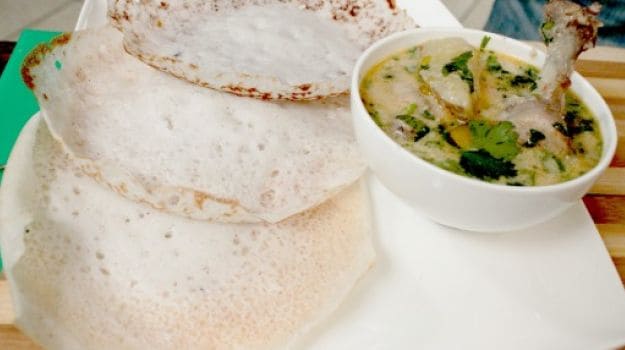 Relish the creamy texture, nutty aroma and subtle spices of this authentic Rajasthani meat curry.
Chicken marinated in a savory mixture of Rajasthani spices, cooked till tender and garnished with fresh coriander leaves.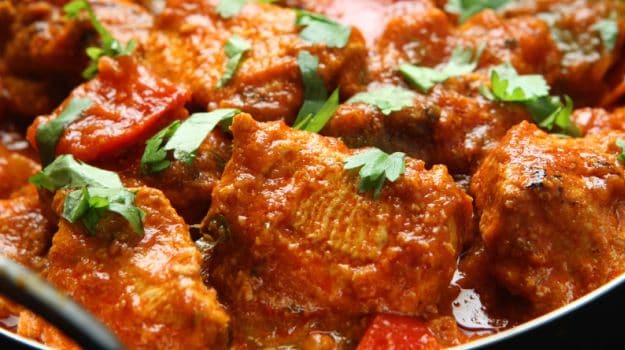 Chicken cooked Rajasthani style, with loads of chillies.
Plate up with this tangy mango curry teamed with the traditional Rajasthani khoba roti.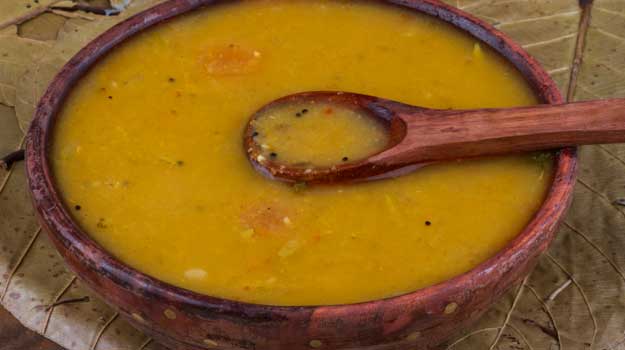 Relish the unusually ecstatic flavours of this Rajasthani raw mango curry.
A traditional Rajasthani sweet delight made of flour, milk and sugar syrup. It is a disc-shaped sweet popularly made during the month of August or the auspicious month of Shravana or Sawan when the festival of Teej and Raksha Bandhan falls.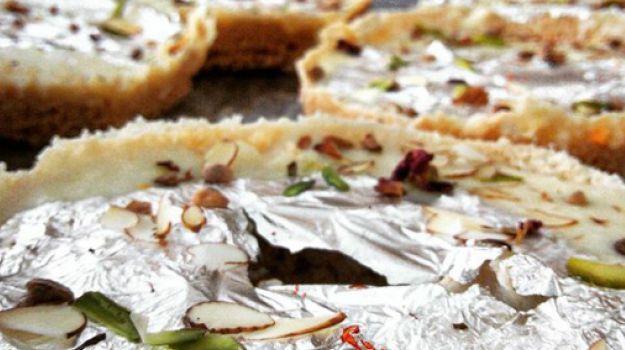 There are a plenty of varieties of the traditional dessert Ghewar including mawa and malai.
This street snack is also known as Jodhpuri mirchi vada. Stuffed masala aloo filling is mingled with green peppers and deep fried. Tastes best when served with tangy tomato chutney.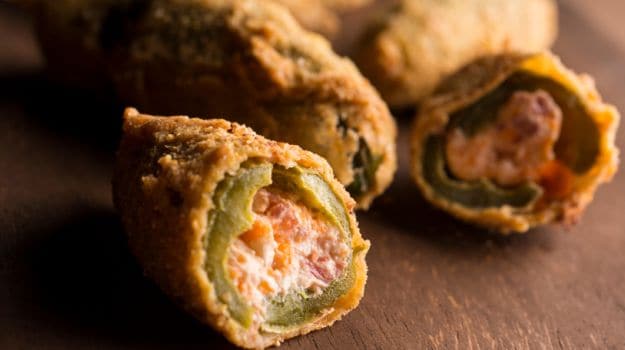 Serve these mirchi vadas with a tangy tomato chutney or white bread.
Rajasthan's favourite, Dal Baati is a heavenly combination often served with a sweet dish of Choorma. Made witg dough deep fried in ghee, Dal Baati is an ideal dinner option in winters.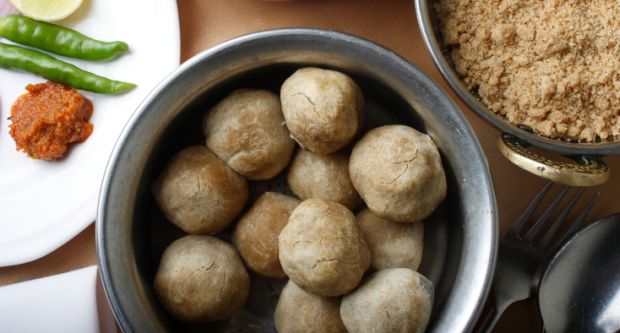 You can prepare this recipe on special occasions and festivals as well and it will definitely please all your guests.
Bajra is known to be a cooling agent for the body, providing it with many essential health benefits. Rajasthan being a state with hot and dry climate uses bajra extensively. Bajre ki roti or bhakri is a healthy and hearty bread made with pearl millet to serve with dry curries and sabzis for lunch and dinner.
These rotis are served with a huge helping of ghee.
Dipped in luscious sugar-syrup, this kachori from Jodhpur is popular all across. It is a fried pastry filled with a delectable mixture of mawa and nuts making it a great festive sweet to relish.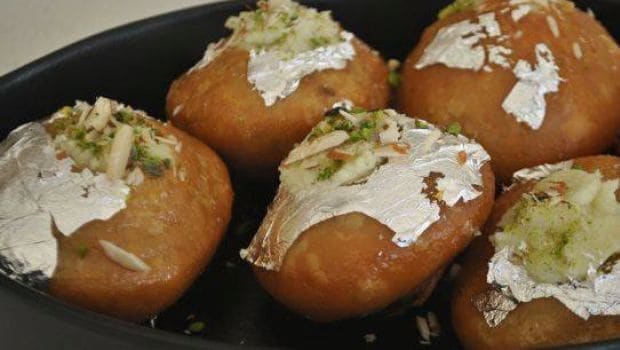 A delectable dessert for every occasion.
While there is no dearth of Rajasthani delights out there, the ones mentioned above are sure to keep you hooked for long! Tell us the recipe you liked the most in the comments section below.