When the Jaipur health department inspected various food chains for quality check earlier this month, three outlets of a leading International fast food brand were found to have been re-using 16 days old oil. The inspection was followed by a legal notice served to McDonald's to improve its quality of products and operations with respect to the Food Safety Act within two weeks' time. The outlets in question were McDonald's franchises at Crystal Palm, Elements Mall and Panchbatti, Jaipur. These outlets also lacked proper oil management system. The officials also noted the fact that due to constant and repeated heating, the oil used had turned black, therefore was unfit for human consumption."We went on an inspection and found that three McDonald's outlets were making use of old oil in their operations. Panchbatti, Elements Mall and Crystal Palm are areas where these outlets are situated. We found that the oil was re-used to an extent that it had turned black, absolutely unsafe for consumption," Narottam Sharma, chief medical and health officer, Jaipur shared with NDTV.The officials also inspected and collected samples from other chains like Subway, Domino'sKFC and Pizza Hut. "We have destroyed the entire stock of old oil found at the McDonald's outlets and have issued a notice as well. Samples have been sent to a government lab for testing," noted Mr. Sharma.
So far McDonald's has denied all allegations, stating that the company follows strict standards when it comes to its products or processing, similar to its International norms uniformly carried out in 130 countries over last 60 years. " An important aspect to understand is that there are no standards defined in India for Oil-in-use... yet, at McDonald's, we follow standards and processes that ensure consistent quality and safe food is sold across all our restaurants McDonald's in India has a robust Oil Management system developed and used worldwide by the Corporation in 130 countries over the past 60 years. These processes are best in class and ensure the oil-in-use is checked every day and meets all the applicable standards," official spokesperson McDonald's India (North & East) told NDTV.
"We look forward to being able to share those processes with the authorities as they seek to set standards for oil-in-use by the food industry in India. We use RBD Palmolein Oil as the cooking medium. It is trans-fat free; and is one of the safest and best cooking mediums that is extensively used in Restaurant and Food processing industry in India due to its established qualities," shared the statement.
"McDonald's believe that the the country lacks proper standards on oil management and usage. We are currently waiting for the report on samples, further investigation and action rest on the same," he added.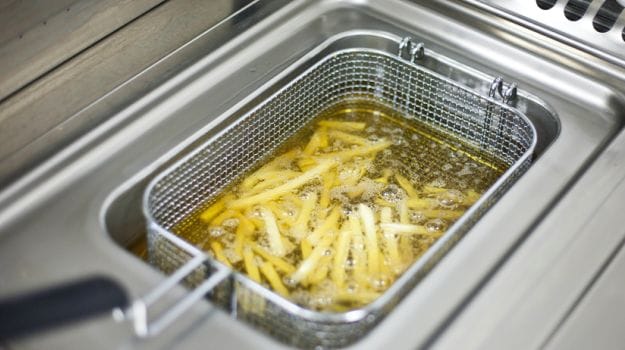 Image via iStockIn the meanwhile, oil samples (fresh and re-heated) have been sent for lab testing. The matter will be moved to court In case the samples fail to meet the standards and hazardous for human health.
While in India re-using oil has been a common practice especially in local street food joints, experts suggest can't stress enough on the adverse effects of the practice. Re-using oil for frying or other culinary purpose should ideally be limited to not more than twice. There are other things that come into play as well that not only affect the quality if oil but make it more hazardous to human health.
"The reason why oil becomes dangerous for consumption after reuse is the rise in concentration levels of trans fatty acids in the oil. Ideally, at home, the same oil should not be used more than twice," says Dr. Anju Sood."Repeated usage and heating of oil can cause a host of health issues including messing with the gastrointestinal makeup of the body," concluded Mr. Narottam Sharma.
It should be kept in mind that oil when heated at or above 360 degree Fahrenheit repeatedly alters the nature of it, making it unfit for consumption. Many harmful and toxic elements are formed - such as polycyclic aromatic hydrocarbons andacrylamid - in oil which can be potentially carcinogenic as well. When the oil is used for cooking it also carries the remnants of the food or matter cooked in it. The same when stored, cooled and used again creates a reactive chain can contaminate the food cooked in it. Using old oil has high chances of the presence of food remnants. The same can act as a feeding ground for bacteria and can lead to the growth of food poisoning causing bacteria.