A concoction of spicy and creamy
Chole
(chickpeas) along with puffy hot
Bhatur
e is the perfect indulgence when monsoon comes knocking. Especially in Delhi, this Punjabi delicacy has taken its food lovers by storm. Usually accompanied by some tangy pickled carrots or radish and onion, this iconic dish has its die-hard fan following. But why is it loved so much? The reasons are well embedded in our Indian roots. The chickpeas are cooked with a host of earthy spices including cumin(
jeera)
, coriander (
dhania)
and a
nardana
(which lends it a tart flavour) in a hearty mix of a tomato and onion gravy.
(7 Sinful Snacks That Spell Magic in the Rains)
The pillowy deep fried goodness of a perfect
Bhatura
is achieved after the dough is fermented for almost one hour. The
Bhatura
is then sprinkled with Indian masalas and stuffed with fresh crumbled
paneer
. Its unprecedented popularity is therefore of no surprise. A steaming hot plate of
Chole Bhature
is an absolute decadent treat. But if you have been wondering where exactly you can find the best
Chole Bhature
in Delhi, here is our pick of the Top 5
Chole Bhature
joints.
We Recommend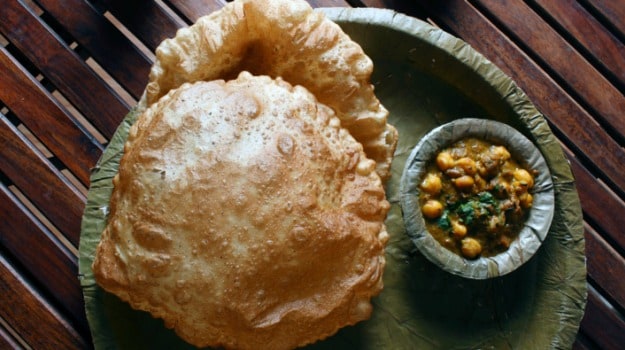 The streets of Delhi are definitely a foodies dream come true. An amalgamation of different cultures, taste and flavours, it encompasses them all. Here's our pick on the Best Places to eat
Chole Bhature
in Delhi. Popular food bloggers and critics seem to agree with us as well.
(Chole Bhature Recipe by Aditya Bal)
5. Kwality Restaurant, Connaught Place
.Situated in the midst of Delhi for the past 70 years this food joint has earned favourites all over the city. An iconic name among the restaurants at Connaught Place, Kwality Restaurant forms a part of fond memories for patrons who have been dining there through their childhood. Mention the dish
Chana Bhatura
to them and you will know what we are talking about!Anoothi Vishal, a food blogger and a renowned food critic, says "What led to the popularity of Chole Bhature was obviously the fact that restaurants and even small hole-in-the-wall ones started selling them in Delhi, post partition as a hearty snack/meal. That Bhature is fried made them 'safer' to eat off the streets. An inexpensive, filling meal has its draw."
(Capital's Delight: Food Options In Delhi)
She further adds, "My favourite place in Delhi for
Chole Bhature
is undoubtedly Kwality restaurant in CP. It is one of those early Delhi restaurants known for the dish and till today, it is the best".
(Filling up Your Belly in Old Delhi)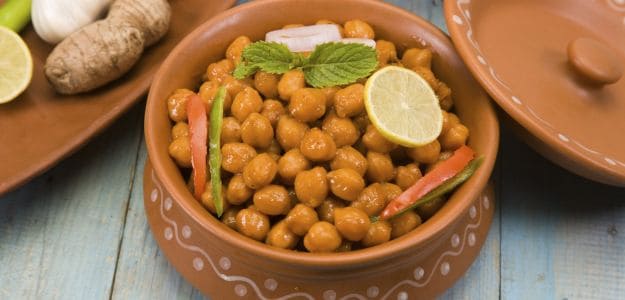 4. Chache Di Hatti, Kamla Nagar
Students are sure to agree with this one. Located in the midst of the hustle and bustle of Delhi University, North Campus, Chache Di Hatti serves
Chole Bhature
with an extra surprise of their tangy homemade pickle, spiced potatoes and green chilly. Served on the humble abode of a cycler rickshaw, it sells its mighty big seller like hot cakes. DU students never forget to mention Chache Di Hatti while recalling their adventurous college days. Student-friendly pricing of less than Rs.20 adds to its popularity.
(Rocky, Mayur Visit Hindu College in Delhi)
Shashank Aggarwal who started the food blog 'Food Enthusiasts of Delhi' recalls his visit to this place. By the time he reached there, the Bhaturas were already sold, but that didn't disappoint this foodie. He says, "Drooling at the smell and sight of the food, I had to settle for the much humbler Kulcha as I really wanted an insight into the
Chole
that he was serving - because by the colour, texture and smell - they seemed nothing less than amazing. And thankfully my feelings did not change once I started eating them - loaded with spices, however not going overboard, hot but just hot enough - these Cholas instantly made me compare them to some of the best in the industry and for me it was a big deal for a guy selling from a bicycle". For the Bhaturas, he says, "The character that the coal-fired angheeti adds to those Bhaturas is something that is hard to explain".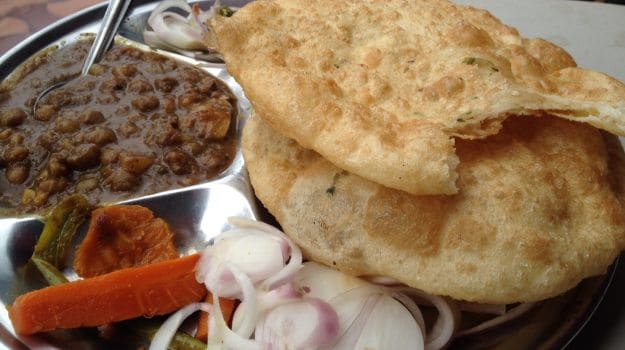 3. Nand Di Hatti, Sardar Bazar
Serving piping hot Chole Bhature under just 80 Rupees, this place ranks high. Its USP is the use of desi ghee and homemade pickles. It's known for its authentic flavours and the addition of semolina (suji) to their Bhatura that makes them fluffier.Anubhav Sapra, writer of the food blog 'Delhi Food Walks', relates, "My first preference for
CholeBhature
is Nand di Hatti in Paan Mandi, Sadar Bazaar for various reasons. There is consistency in the taste and that they are very light. One experiences no heartburn after eating them". He adds, "Their addition of suji to the
Bhatura
dough took me by surprise. The Bhaturas are soft and even crispy, with no oil dripping out. The
Chole
was a mix of delectable flavours".
(Vada Pav Sandwich Recipe​)
2. Baba Nagpal Corner, Lajpat Nagar.
Ask any Delhi Foodie about their favourite
Chole Bhature
joint and there is a high chance that they will ask, "I'm sure you've tried out Nagpal's
Chhole Bhature
near Moolchand?" From college goers, auto wallas to corporate big-wigs, this food joint is where they get their decadent morning mix.
(Monsoon Recipes: Why Do We Crave Fried Foods?)
From 7am in the morning, this place is surely the busiest around that area. Hemanshu Kumar from 'Eating out in Delhi' writes, "I had one of those things which people rather theatrically call brainwaves: why not motivate myself with some good food? That's where Nagpal comes into the picture". Nagpal's
Chole
are full-bodied and zesty and his
Bhature
are wonderfully soft and speckled with
paneer
inside, just the way I like them. And Nagpal has just the thing to accompany a plate of his
Chole Bhature
— a cold glass of sweet Lassi, sourced from the shop next door. The two together will set you back by no more than Rs. 35!"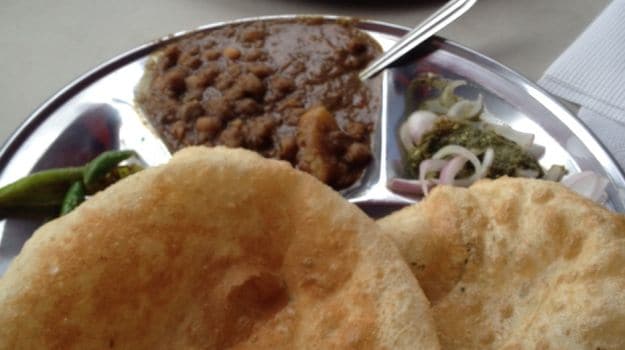 1. Sita Ram Diwan Chand, Paharganj.
And the winner of the best
Chole Bhature
in Delhi – drumroll – is Sita Ram Diwan Chand. From their small shop in Chuna Mandi near Imperial Cinema, Sitaram makes what many Delhi-ites believe to be the perfect
Chole Bhatur
a. Certainly many customers, including leading industrialists and movie stars, travel great distances for their daily fix.Mayank, Founder of Delhi Food Club, agrees with our winner and says, "Street food for me needs to be hearty, affordable, something the 'aam aadmi' can live on but most importantly it needs to represent a city like no other dish can.
Chole Bhature
the quintessential street food of Delhi- it is cheap, quick to make and extremely delicious".He adds, "The best
Chole Bhature
, according to me, is Sita Ram Dewan Chand in Chuna Mandi, Paharganj. Their
Bhatura
is different to some other places in Delhi insofar that it does not rise that much but it takes nothing away from the taste. The
Chole or Chane
(as it is called) are amazingly spicy and sour. What truly elevates the dish at Sita Ram is the fantastic sweet and sour chutney that is served to everyone".