Popularly referred to as 'the City of Nawabs', Lucknow still evokes an old world charm as you walk through the narrow lanes of the old city or catch a glimpse of the pride of Mughal architecture - the Bara Imambara. The intricate detailing on those arches, the magnificent tombs and pillars, and the sheer grandeur can make anyone stop and stare in wonder. Some of the archways of yore still stand tall amidst a fast-growing modern city such as the Rumi Darwaza, which is simply breath-taking and reminiscent of a luxurious and extravagant era.
Much like the historical monuments, the food too speaks volumes of the Nawabi culture. Awadhi cuisine is renowned for its flavourful dum biryanis, slow cooked Nalli Nihari served with Khameeri Roti and the numerous preparations of kebabs and sweets that you will miserably fail to keep a count. Lucknow is probably the best place in the country to explore Awadhi cuisine and sample some of the most delicious culinary creations of all-time without burning a hole in your pocket. The Nawabi Khatirdari (hospitality) is well-known too. Yes, in short, it is a paradise for food enthusiasts.
Also read: Daawat-e-Dilli:Jama Masjid Iftar Trail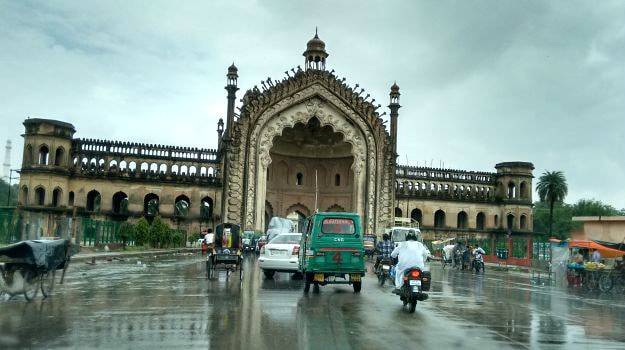 Rumi Darwaza; photo courtesy: Dishant Bhasin
So it is only obvious that for the last in our series of Iftar trails, we headed to this Nawabi capital for a feast of a lifetime, and boy, what an experience that was!
Three places in Lucknow that stand tall when it comes to Awadhi cuisine are Chowk, Aminabad and Hazratganj. Chowk, one of the oldest markets in the city, may not be everyone's cup of tea because you really have to force your way through narrow lanes thronged with people and bicycles and cars and rickshaws to make it to your destination. But on a positive note, it is worth every minute because the food here is the best in the city. Make sure you do a little research of the food haunts you would like to visit before heading there because in the midst of chaos, you may lose your patience. It is definitely not a place for a leisurely stroll.
The other two places are easier to walk around, in comparison, and if you love chaats then Royal Café and Moti Mahal in Hazratganj are definitely worth a visit. You have to try a plate of the famous katori/ basket chaat to believe its decadence, and the kesar-flavoured kulfis too that are served topped with semiya (vermicelli).
Coming back to the Iftar trail, here are the top 10 places that you just cannot afford to miss. Satisfaction guaranteed!
1.Idris ki Biryani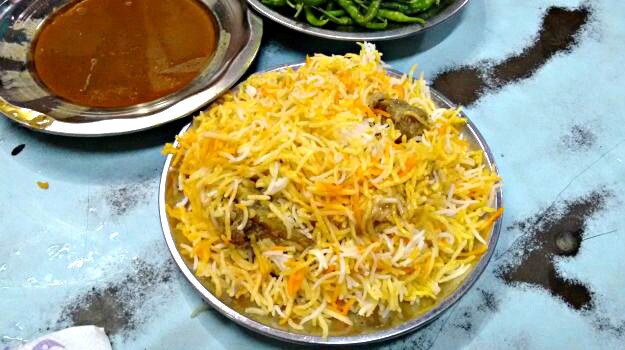 It is not often that you come across a biryani place that ticks all the right boxes in terms of taste. Finding it is not easy, but since it is extremely popular, anyone you ask on the streets can point you towards it. In terms of ambience, it is as basic as it can get - the eatery is small and quite messy, with huge degchis lying everywhere. There is a tiny seating area at the back where patrons don't mind accommodating each other to share a meal. Their Mutton Biryani is outstanding (hands down); unbelievably moist, delicately spiced and contains generous quantity of incredibly tender meat - the outcome of slow cooking for several hours. We were served sautéed kaleji to go with it and a spicy and flavourful curry that elevates the overall taste. They also serve kebabs and Mutton Korma, if you are keen to explore.
Chowk, Near Patanala
2. Tunday Kababi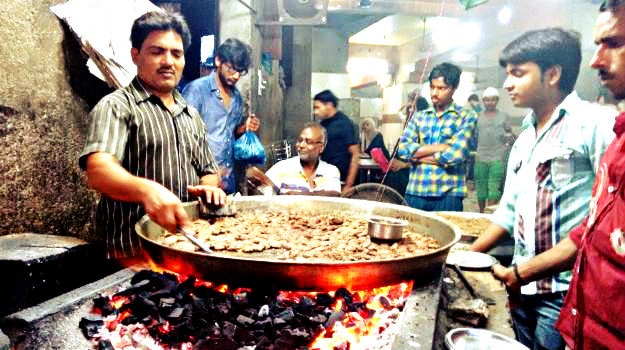 Needless to say that this is the kebab heaven in Lucknow! There are multiple branches in the city but we feel that the one in Chowk, which looks like a poor cousin of the grand outlet in Aminabad, is far superior in terms of taste. It is also the first outlet where it all started, when the creator of the kebabs, a one-armed man, would feed the Nawabs his special treat.
Right at the entrance you can see the cooks making the Galouti Kebabs over charcoal, which is a brilliant way to work up an appetite. And as you bite into it with ultra-thin and flaky parathas, it is pure bliss. The kebab just melts in the mouth and the flavours from the spices make it irresistible. The biryani and Mutton Korma at the Aminabad branch are worth trying too.
Near Akbari Gate, Chowk; Naaz Cinema Road, Aminabad
Ramzan 2015: 5 Energy-Boosting Foods for Suhoor
3. Raheem's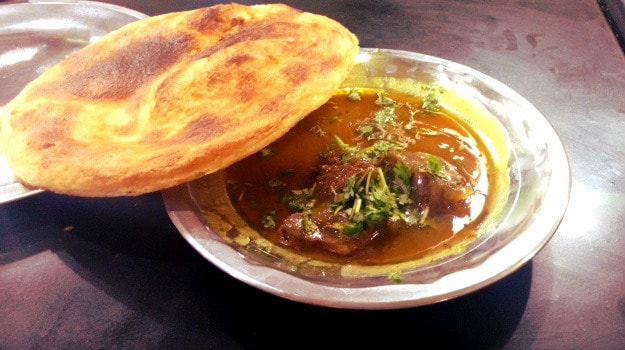 Famous for its kebabs, this is another quaint eatery which is located in the same lane as Tunday Kababi. As you enter, you can witness the cooks busy at work grilling skewers of kebabs over charcoal and making sheermal (a saffron-flavoured flatbread) in the tandoor. We ordered Nalli Nihari with sheermal and a plate of Pasinda Seekh, their signature kebab. The Nihari was flavourful though I must admit that I have had better. The kebabs on the other hand were excellent and we loved the fact that they were tender and delicately spiced with a lovely minty flavour.
Near Akbari Gate, Chowk
Ramzan 2015: What to Eat for Iftar
4. Haji Abdul Shakur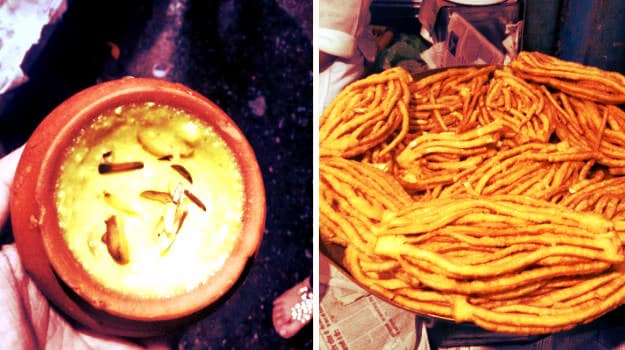 This was a pleasant discovery. If you try and Google it, you will probably find nothing. But if you happen to be visiting Tunday Kababi in Chowk, then make sure you look at the tiny shop right opposite to it. It serves a select but delicious range of sweets. The phirni and jalebis are definitely worth trying. During Ramzan, they also make shaak or bouchnikha, which is a large-sized, multi-stranded sweet treat, and is flaky.
Near Akbari Gate, Chowk
5. Wahid ki Biryani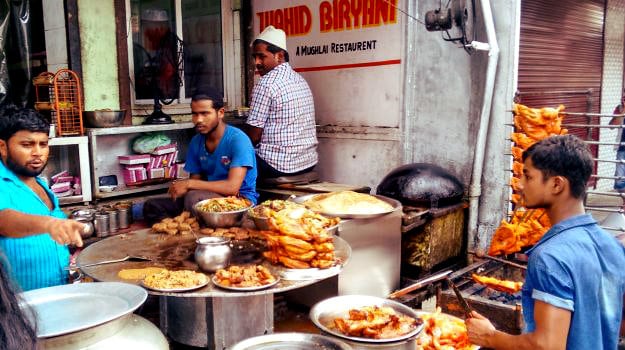 Don't be fooled by the small size of the eatery in Aminabad; it is a powerhouse when it comes to offering flavourful dishes. The famed biryani is said to be made of 55 spices and is the sole reason behind the growth and expansion of the brand which now has multiple outlets. The Chicken Biryani we tried had tri-coloured rice - white, light brown and yellow - was very moist, almost milky, and the chicken pieces were succulent. At first glance, it didn't look very appetizing but it made up in terms of taste. It was served with raita and chopped onions. The menu also includes a number of meat curries and kebabs.
Naaz Cinema Road, Aminabad Market
The Awadhi Food Etiquette: Nothing Before, Nothing After Biryani
6. Alamgir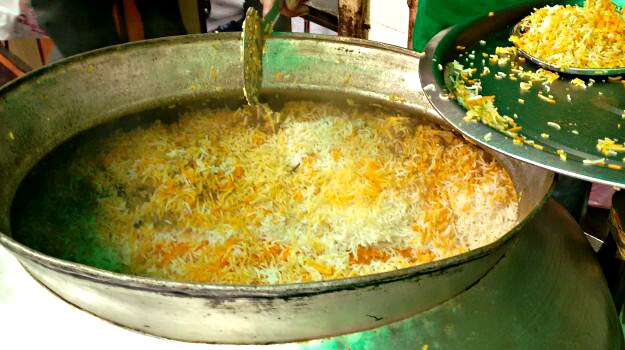 It opens its doors only post 4 pm, and thereon it is a bustling shop filled with kebab fanatics who swear by its taste and quality. The Shahi Toost kebabs priced at Rs. 20 per piece is worth every penny because as soon as you indulge in it, chances are you will go on to order more. The menu also includes biryani, curries and parathas.
Naaz Cinema Road, Aminabad Market
Eid Al-Fitr: A Taste of Traditions
7. Prakash Kulfi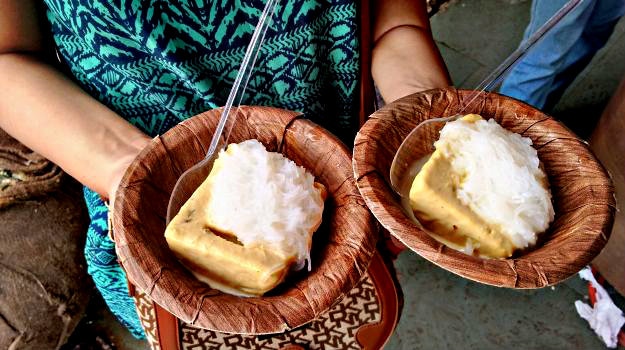 If the meaty extravagance makes you crave for something sweet, then you must make your way to this little shop that offers, what is probably the best kulfi in the city. The options here are very limited - you can either choose Kesariya Kulfi or Sugar Free Kulfi. The former is smooth, rich and creamy, without being overly sweet. The kulfis are stored in huge matkis, and as soon as you place your order, they pick a frozen case from the matki, break open the seal, slide the kulfi into a serving bowl, top it with vermicelli and serve.
Aminabad Market
8. Dastarkhwan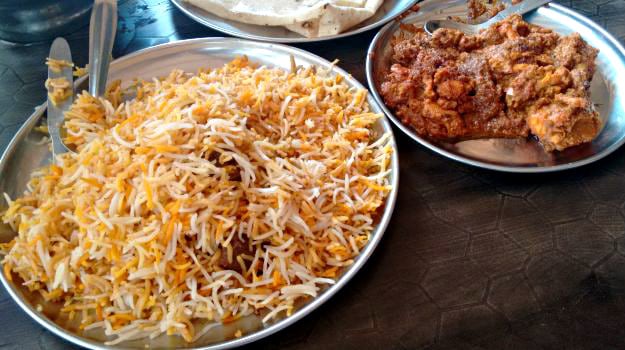 This is another popular restaurant in the city, evident from the never ending line of customers who wait patiently to get a table. The open-air set-up is basic but the sight of kebabs being grilled and the aroma of dum biryani making its way to you while you sit and wait, contribute to the thrill of eating at this iconic restaurant. Their signature dishes include Mutton Biryani and Chicken Masala that have a fan base near and far. In comparison to the other biryanis we tried, this was slightly a notch up in terms of spicy flavour and looked as good as it tasted. The chicken dish was cooked in a thick and flavourful spice-mix, was moist and juicy, and proved to be a great accompaniment to the biryani. The kebabs and Mutton Korma are worth trying too!
Near UP Press Club, Hazratganj
9. Open Air Restaurant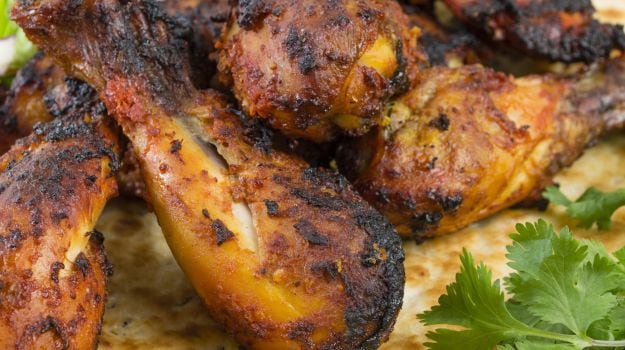 Located right beside Dastarkhwan, it is equally popular for its kebabs and biryani. It has another branch in Gomti Nagar, which also has a loyal customer base. The Mutton Korma is definitely worth a try and so are the Boti Kebabs. But finding a place to sit is quite a difficult task.
Near UP Press Club, Hazratganj
Tandoori Scion on Kebab Trail - From Turkey to India
10. Shekhawat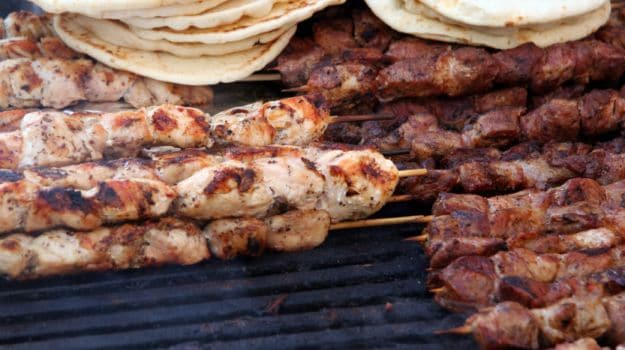 Open only from 5 pm to 10 pm, this restaurant is the best place to head to for some lip-smacking kebabs. As the story goes, the forerunners of the restaurant used to cook for the Mughal kings, and that's how the business was started. Some of the must-try kebab preparations include Shammi, Galouti, Pasanda, Booti, Kakori and fish; and mains such as Murg Musallam and Raan, which you can pair with zarda rice.
Qaiser Bagh Avenue, Oudh Gymkhana Club