How Does India Rate As A Wine Drinking Culture?
Sommelier India | Updated: May 24, 2014 14:04 IST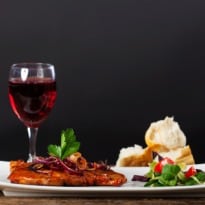 The curry shops of Southall in London are a thing of the past and Indian fine dining doesn't stop at Chicken Tikka Masala, which is often described as England's national dish. Indian food has found its place among the fine cuisines of the world. But what of Indian wine drinking culture? asks Reva K. Singh in her editor's note.

What's even more encouraging is that Indian food is now being paired more often with wine than with beer - the only beverage considered acceptable with it in the past. Given how diverse and complex both, wine and Indian cuisine are, is there any reason why this should not be so? We need to open up our minds and be adventurous. My own culinary odyssey with Château Margaux wines at a dinner in Delhi recently was glorious proof.

How does India rate as a wine drinking culture? Poorly, I'm afraid. True, wine drinkers are eager to learn and enlarge their experience. Also true that there has been growth in the awareness and appreciation of wine from a level where it was almost non-existent. But the early pace of progress has faltered. The reason - and your guess is right - is our tangle of red tape and contradictory regulations.

Why is imported wine - even the affordable supermarket variety - so expensive in India? And why is there so little choice? Why isn't it more widely and easily available? The reasons, dear reader, can all be traced back to mindless, annoying, time-consuming, obstructive policies. I've had more than enough conversations with Indian wine importers to know that this is a fact. There is little incentive for them to import more and better quality wines. Even now they are battling against new label registration requirements while their consignments languish in bonded warehouses. The cost of an imported wine goes up by eight to 11 times from its FOB price when you buy it at your local store. Why is it so much? It's a good question. Consider the facts: the add-ons are Customs Duties (150% plus additional taxes taking it to 162%), CIF or cost, insurance and freight plus 5% more for unloading, etc), storage costs in-bond (Rs 50 per bottle, plus an additional Rs 50 to Rs 100 for transferring goods to another state), State duties (varying rates for no clear reason called Special Duty) and then, on top of it all, the beleaguered wine importer has trade margins and marketing expenses to contend with -amounting about 40%.

Now that we have a new government in place with an absolute majority, will the election promise of better days ahead (Ab achhe din aa rahe hain) extend to the hapless wine consumer and wine industry in general? Let's hope so.

One solution often mooted (see Alok Chandra's article) is a return to the old system that was in place until 2007. Duties at the lowest slab would continue to apply but be progressively reduced to 40 per cent at the highest slab. This would prevent cheap imported wines vying with Indian wines while making higher-priced (and better-quality) wines from abroad more affordable.

The Chinese wine industry, after a period of rapid growth, is facing problems of its own with wine sales falling sharply. (China sells over 35,000,000 cases of imported wines annually, compared to our 300,000 cases). Theirs is a problem of excess and high spending which has resulted in a government crackdown.