Soaps For Men That Smell Like Bacon and Beer
IANS , Washington | Updated: February 28, 2013 10:52 IST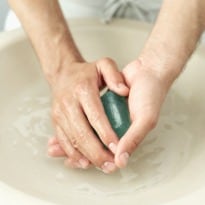 An American entrepreneur has come up with a range of "macho" soaps - meant only for men. The soaps smell like beer, bacon, wine and coffee.

Adam Anderson was sick of scrubbing himself with feminine aromas like lavender and lilac and set about creating more manly-scented soaps, The Sun newspaper reported.

"I went to wash my hands and noticed all the girly scented soaps we had around the house. I thought to myself, 'this is not how a man's hands should be smelling'," said the 27-year-old from Nebraska.

Using his kitchen as a lab, Adam came up with 20 different soaps - including bonfire, brewed coffee, cannabis and red wine.

He makes his soaps using cocoa, palm oil and glycerine.

"I sat back and thought about what were some of the world's favourite smells? That is when 'ManHands Soap' started to come alive," Anderson said of his own product.

He started selling his creations at craft shows near his home and they were an instant hit. Adam now offers the full range online.