Woman's Place is in the Kitchen - in a Hotel or on a Ship
IANS , Chennai | Updated: March 08, 2013 11:22 IST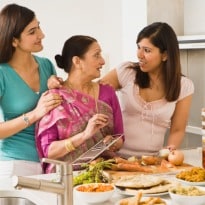 A woman's place is certainly in the kitchen, provided the kitchen itself is in a hotel or on a luxury liner, female chefs here say.

These apron-wearing women responsible for the bottomlines of the restaurants headed by them have varied experiences, whether setting up a kitchen on a ship or being part of the pre-opening team of a star hotel.

Even as they swear that "a chef is a chef, whatever the sex," these women say they needed to work twice as hard to be accepted as kitchen professionals by the "men-in-white" in the kitchen.

"It does take a little time to gain professional respect from men," Archana Kurup, chef at The Park Hotel here told IANS.

"Once that happens, it becomes easier to get things done," Priya Roy, executive sous chef at The Westin Chennai Velachery hotel said.

Agreeing with them, Nimrat Pahwa, chef at On the Rocks restaurant at the Sheraton Park Hotel and Towers here told IANS: "If one stands firm in order to prove herself, then life is a cakewalk."

"You have to be a man in the kitchen or be ready to get slaughtered. However, I have not faced any gender bias," Megha Balasubramanian, chef de cuisine at the Flying Elephant Restaurant in the Park Hyatt Hotel said.

Life in a commercial kitchen is not a bed of roses for women; the work involves standing for hours on end, and staying away from home for long hours on a daily basis. Even after a long day and late return home, one might be expected to report early to work the next day, besides also manage the children and elders at home. When things get busy at the hotel, it is expected that one would miss celebrating festivals with family.
"I am fond of clothes, shoes and shopping but I seem to be stuck in a chef's uniform forever," laughs Pahwa, who is 26.

"One has to make lot of compromises and adjustments at home," Roy, a mother of son studying in LKG said.

Married to another five-star hotel chef, she added: "In a way this has helped me as he understands the demands of this profession."

Interestingly, these women are all among the first to become professional chefs from their families.

It is the fire in their belly, the tingle on their tongue that keeps them going, even though families are often disapproving of their choice of profession.

Thirty-nine-year old Roy, a native of Coonoor in Tamil Nadu, actually bunked her medical entrance exam despite going to the examination centre as she was interested only in the catering technology course.

But how did she get drawn to this profession?

"I was in school and decided to make upma (a south Indian dish made of semolina). While the dish smelt nice while being cooked, it turned out a messy mass. To escape my mother's wrath, I served it to a neighbourhood dog," she mused.

"The dog too only tasted it and ran for its life" Roy recalled.

That, however, was the first - and last - of Roy's culinary disasters.

"I took it up as a challenge, and started learning to cook. I got interested in this profession. From then onwards, there was no looking back. I have worked in a cruise kitchen," she said.

"Cooking several thousand meals a day, managing available rations till we reach another port - those taught me the need for meticulous planning. That experience has enabled me not to fear numbers, taking care of party/function orders today."

According to her, the ship experience has helped her to focus on hygiene at the restaurant by minimising wastage and using food and vegetables in an optimum manner.

Queried about their management style the women chefs say they delegate and get things done and upon need turn into a hands-on manager.

But the one rule that these women chefs follow and want the others to follow is: "In my kitchen, I rule".

Looking forward, none of the women chefs plan to remove their apron and enter executive cubicles.

"Like most chefs, I dream of a restaurant that I own," said Pahwa.