I used to visit an office in Bandra East where I worked as a consultant a couple of years back. This was when I took my first steps towards being a freelance food-writer from being a 'full time' market researcher earlier. I used to go to the office twice a week. The high point of my day there was at 11 am when I would step down for a late morning snack, a sort of mini brunch. On most days, I would head to the stall of Mr Kamble, an elderly gentleman who operated from the pavement in front of the Guru Nanak Hospital. He used to sell
upma
and
pohe
and
chhaas (buttermilk)
made by his wife, Mrs. Prabha Kamble. Prabhaji would cook every morning at their house nearby.Once she was done, mama and papa Kamble, helped by their son, would drag the aluminum canisters filled with food to the stall where Mr Kamble, a retired sari salesman, operated from. I fell in love with their
pohe
(rice flakes tempered in oil, turmeric powder and with whole mustard seeds a curry leaves and green chillies) and
chhaas
and would look forward to my 'office days'. There was something which reminded me of the proverbial grandma's apron in the
pohe
, the simplicity of taste, the very mild spicing and the no excessive oil used in it, unlike what one would expect of street food. The food was nourishing and filling and very inexpensive. The Kambles are Maharashtrian and the dishes that they served were those typical of Maharashtrian homes. Mumbai is filled with many such
street-side stalls
set up by local families serving food from their homes. You could call the women running them the original 'home chefs'. They are referred to as
maushi
(aunt). They are popular in the neighbourhoods in which they operate but rarely known outside of it. None have a name, though the stall of the Kambles had one. 'Aai Tuljabhawani Prasanna,' after their family God.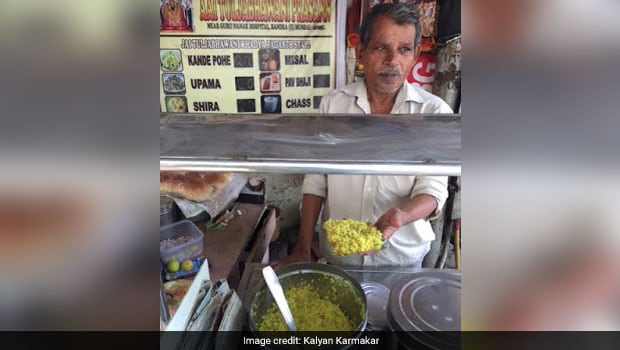 Mumbai is filled with many such street-side stalls set up by local families
One such stall that I go to is run by an all woman's team on the Peter Dias Road in Bandra West, in the lane down the ICICI Bank at Mehboob Studio. Reshma and Anita and their neighbours had set up this stall recently. They operate every morning from the stall, sheltered under a black umbrella which is fixed to a table. They sell simple Maharshtrian style
puri bhaaji, ussal, pohe
and
upma
and the food is a hit with those who live in the posh apartment complex nearby as well as at the various film studios and media agency offices there. Nothing here costs more than Rs. 30 and nor does it at Mr Kambe's stall. The food is pretty easy on the stomach and is not spicy or oily and the bevy of customers coming back for more to them is a testament to the hygiene levels of the food. They operate till stocks last which is usually noon everyday.
Office Canteen Misal
My first encounter with Maharashtrian breakfasts was two decades back and that had turned out to be a spicy affair. This was at the canteen of my first office in Mumbai at Dadar. The office canteen used to offer various vegetarian dishes for breakfast every morning and this included dishes such as
puri bhaaji
which I loved, an acceptable
dosa
and horrid
idlis
(Mumbai office canteens specialise in this) and
vada pavs.
There was one dish which they offered every day regardless of what else was on offer. This was a spicy split pea curry which reminded me of the
ghoogni
of Kolkata. Funnily enough they added what we knew as
chanachoor,
you would know it as
namkeen
, and what's called
farsan
here to the curry.I was twenty years younger and twenty kilos lighter and didn't worry about things like fatty livers and clogged arteries then and loved scooping this up with soft
pav
. I learnt that the dish was called
misal,
which seemed funny as it reminded me of the word 'missile! Over the years I learnt that the
misal
is a popular Maharashtrian breakfast dish, though the canteen where I first had it was run by a gentleman called Jaggu, who was a Shetty from Mangalore.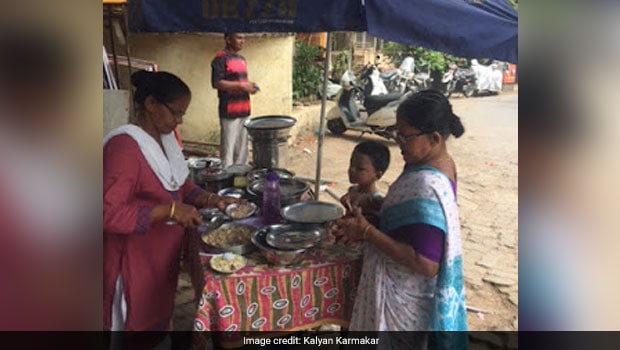 Bandra ladies breakfast stall
My next
misal
experience was at a restaurant called New Sardar at Chinchpokli when I moved to another market research agency which was then housed at Voltas House. New Sardar was Mangalorean run too and its owner, Vijay, was as talkative as he was enterprising. His
misal
had apparently won an award for being the best missal and his missal too was of the spicy and oily potboiler variety which I had begun to take a liking to. Vijay was always thinking of how to grow his business and then hit upon a great idea. He began sending his missal in a
tiffin dabba
for office delivery orders and that made it a lot easier to eat.Eventually, I left the agency that I worked at and moved to another. The agency shifted office locations too and Sardar shut down. I am not sure if any of these events were correlated.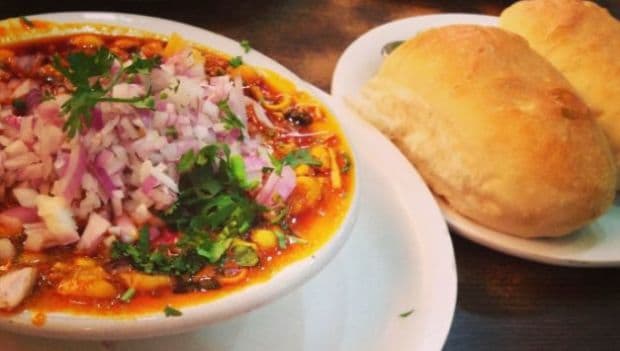 Misal is a popular Maharashtrian breakfast dish. Photo Credit: Istock
Dadar's Marathi breakfast joints
I had begun food blogging by then and was connected to more food lovers than ever before. Once a reader of my blog, a Gujarati lady and a vegetarian, took me to an eatery called Prakash in Dadar for breakfast. Prakash, like Mama Kane near the Dadar station, is one of the older vegetarian Maharasthtrian restaurants in Dadar and the family runs a branch at Girgaun too from what I understand. I had the
misal
at Prakash and it was an eye opener for me. To start with, it had a mix of lentils, moong sprouts, moth beans,
matki
sprouts and so on and not just split peas.I later learnt that the mixture of lentils is what is referred to as
'misal'
and that there could be variations in the way this is prepared. The
misal
at Prakash was a lot more soothing and less spicy and oily compared to that I had eaten at Sardar or at office canteens or even at the Mafco stalls at Nariman Point earlier. The other interesting thing at Prakash was that they did not serve
misal
with
pav.
That is how
misal
was eaten earlier in Maharashtrian homes I was told. Pav, (the fist sized soft bread loaf) was a relatively new introduction apparently as I learnt. In fact, there are places in Pune that serve
misal
with a slice of bread and not
pav.
I have tried out the other breakfast dishes at Prakash and my favourite there is the
puri bhaaji
. The
puri
is browned and deep fried and has a delightful crunch to it. You get a
sukha
(dry)
alu bhaaji
and a geela (curried) one. I always go for the
sukha
one where potato cubes are tossed with whole mustard seeds, finely chopped green chillies,
turmeric
and salt and the combination is deadly, no pun intended. My plan, each time I order a plate of
puri bhaaji
at Prakash, is to have just a couple of
puris
as they are deep fried and not the best of things for your health. When I get up though, you will see that my plate is empty. Those
puris
are hard to resist.You will find Suryakant Sarjoshi's Aaswad close by. The restaurant was started by his father thirty years back and was one of the first air conditioned Maharashtrian eateries. Both Aaswad and Prakash have shifted locations now as they were located in buildings that have gone in for redevelopment. I love the missal at Aaswad as it has the homelike quality similar to the one at Prakash with a hint of spiciness to perk things up. The great quality of
farsan
is that it adds a lovely crunch to the dish. Aaswad serves it's
missal
with
pav.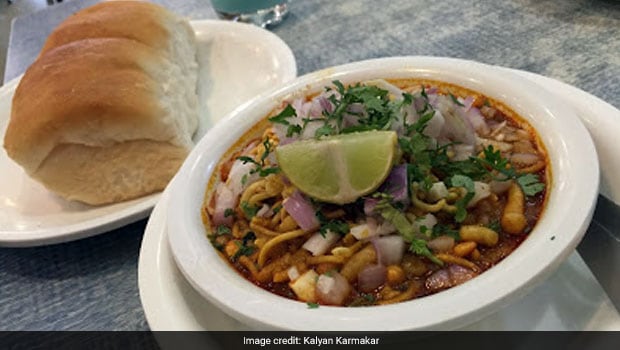 Misal Pav at Aaswad.
I had nominated Aaswad's
missal pav
as my favourite vegetarian dish in the city for the Foodi Hub award and it went on to win the best vegetarian dish at the Global Foodie Hub Awards that year. Aaswad makes a lovely
pohe
as well and that makes for a nice and light morning meal. You can also try out dishes such as the
kothambir vadi
and the
sabudana vada
at any of these restaurants for breakfast or through the day. Then there is the thali peeth which I first tried at Prakash though the one at Aaswad later became my favourite. This is a shallow fried mixed-grain flat bread which you eat with a dab of white hand-churned butter (loni) and a sweet
dahi
chutney. I have had it both at their Dadar outlet as well as at the one at the airport before a flight.Close to Prakash and Aaswad, and at the cusp of Shivaji Park is Gypsy Corner, a simple eatery which a number of my Maharashtrian friends are fond of. One of the most lip-smacking dishes I have eaten there, which its owner Rahul Limaye recommends too, is the
matar pattice
, a local green peas and potato mash croquette. They serve
misal
too and theirs is a spicier version compared to Prakash and Aaswad's. Their
batata vadas
are smaller than the normal ones, and are modeled after the ones at Khapoli on the old Mumbai-Pune Highway which was once a must stop for people before the new Expressway came up.
Where do the Maharashtrian food lovers go to for a Marathi breakfast
I had mentioned the thali peeth a short while back. Well, there is an interesting twist to the story. I once saw food writer and consultant and a Maharashtrian, Saee Koranne Khandekar, express her despair on Instagram about the shallow fried
thali peeths
served at Mumbai's Maharashtrian restaurants. I spoke to her to figure out what the issue was as all the
thali peeths
that I have eaten were shallow fried. Saee told me that the rolled out dough for
thali peeths
is toasted on a tava (flat griddle) in Maharashtrian homes and not fried like what they serve in restaurants. The restaurants possibly fry them to save time. I had seen this happen at Vinay Health Home in Girgaon too where the
thali peeth
was fried and served. The
thali peeth
at restaurants seemed to be different from what is served at home.Saee's take on
thali peeth
made be wonder if my take on Mahrashtrian breakfast places would be that of an outsider. Would local Maharashtrians have a different point of view? I became curious and decided to speak to some of my Maharashtrian friends to find out about their favourite Maharashtrian breakfast places. The first response from most of them was that they rarely went to Maharashtrian places for breakfast as they felt that what they got at home was better. Some interesting recommendations did come out eventually and I thought that I will share those with you.Saee, for example, said that she dotes on the 'vaangi pohe' which is available at Prakash on Sundays. Unlike the
kanda pohe
which is made with finely chopped onions and a mild spicing, the
vangi pohe
Saee says, contains the
goda masala
and tamarind too. The contrasting flavours of the spiciness of the
goda masala
and tanginess of tamarind makes this Saee's favourite. 'Vaangi' means aubergine and the consistency of how the vegetable is cooked could vary from cook to cook. At times aubergine chunks remains firm and at times they disintegrate and blend with the
pohe
(rice flakes).(Also read:
13 Best Breakfast Places in Mumbai
)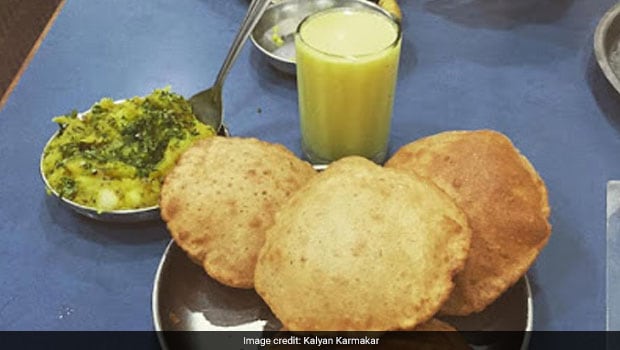 Puri bhaaji with Piyush (a drink) at Prakash
Another Prakash fan is Dr. Abhijit Desai, whose father had founded the Sindhudurg coastal Maharashtrian seafood restaurant close by. Abhijit goes to Prakash for the
sabudana vada
which he feels is the best he has had. He loves the combination of these sago bean croquettes with the crushed groundnut chutney with which it is served. Writer and author, Shakti Salgaonkar Yezdani, who works with Kalnirnay, has a strong point of view on how Maharashtrian food should be prepared and can be strict in her responses to what she is served. This stems from the fact that both her grandmothers were great cooks, Shakti tells me. To avoid 'disappointment', she prefers to go to
Irani cafes
for breakfasts rather than to Maharashtrian ones. Incidentally, like Saee, Shakti too is aghast by the fact that
thali peeth
is fried in restaurants. The only time she would go to a Maharashtrian place for breakfast is to Aaswad and only for the pohe. Shakti goes to Bhatt Missal at Chembur for brunch and occasionally to Gypsy Corner for the
mattar pattice.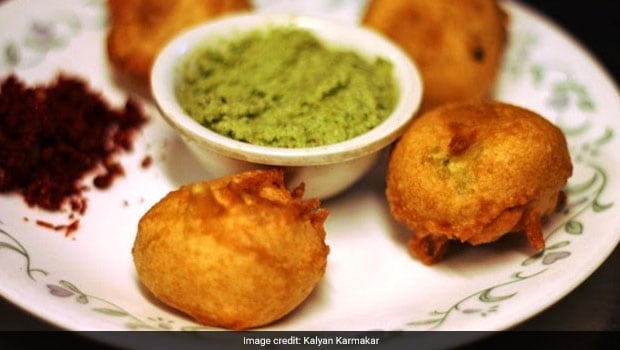 Batata Vada at Gypsy Corner
The person who had introduced me to Aaswad is a blogger, who prefers to be referred by her nom de plume, and who is the author of the blog Sassy Fork. She is a fan of the
pohe
and the missal at Aaswad. Sassy Fork says that the balance of spices at Aaswad works well for her.Anjali Koli, who is an IT professional turned food blogger and entrepreneur, recommends the Shree Datta outlets at Goregaon East and on the Mumbai Pune Highway. She loves the
sabudana khichdi
there, as it is served piping hot and is coated with a peanut powder which she feels imparts a lot more flavor to the dish than found in the
sabudana khichdis
usually in other restaurants. Anjali points out that the
sabu dana
(sago) pearls here are kept separate from each other and that they do not coagulate or get congealed as it happens often elsewhere.I found another Shree Datta fan in Soumitra Velkar, a finance professional who is a Pathare Prabhu home chef too. Like most others I spoke to, he doesn't go for Maharashtrian breakfasts when in Mumbai as he prefers what he gets at home. However, he loves stopping at the Shree Datta outlet on the Mumbai-Goa highway. Like Anjali, he loves the
sabudana khichdi
as well as the
kothambir vadi
(made with
besan
and coriander) and
kharvas
(a cheesecake-like sweet made with collagen or the first milk of a cow).Actress, author and food writer, Tara Deshpande, often goes to a stall called Kutumbsakhi at Nariman Point whenever she goes to her studio there. She is a huge fan of the
sabudana khichdi
and
pohe
there and finds the
sheera (suji halva)
to be simple but pleasant.I came across two Maharashtrians, who are both JJ School of Arts alumni and who had once worked in the same ad agency years back, and who both have fond memories of Maharashtrian breakfast places near the Chhatraptati Shivaji Terminus in South Mumbai.One is Harshad Rajadhyaksha, an advertising professional who is the man behind the excellent 'A Close Shave Called Mumbai' photo series on Facebook and who had designed the cover of my book, The Travelling Belly. He tells me that he is fond of Aram, a humble eight decades old eatery, located in the Capitol Cinema Building opposite the CST Station. His favourites here include the
thali peeth,
the
misal,
the
kothambir
wadi and the
sabudana
and
batata wadas
. He strongly recommends that one has the food with the
masala chai
there and says, "I cannot emphasize enough the how well the combination of a great chai with Marathi snacks can embellish the experience." As Harshad points out, Aram is one of the few Maharashtrian eateries in the heritage Fort area, which is otherwise known more for its Irani, Mangalorean and Keralite eateries.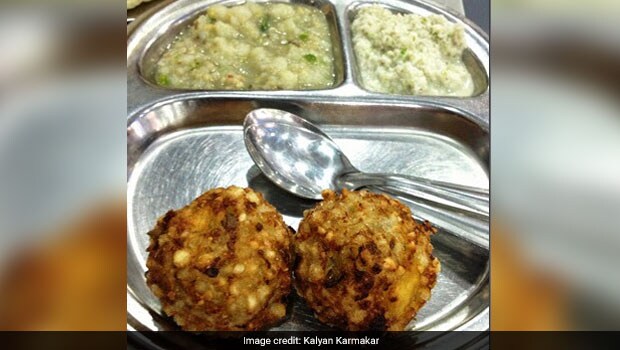 Sanudana Vada at Vinay Health Home
I thought that I will leave the last word to Harshad's alumni at the JJ School of Art and a man who needs no introduction to food lovers, Kunal Vijayakar. Kunal roots for the
sabudana khichdi
that he used to eat at Canon Pav Bhaji opposite the CST Station and says that it is the best
sabudanu khichdi
that he has had. "Non oily, not at all rubbery. Lots of potatoes and lots of peanuts and lots of green chillies. The dish smacks of nostalgia for me and we still call for it during family functions."Kunal sheepishly told me that he has not had the
pav bhaaji
that Canon is famous for. Hopefully this has left you with enough ideas on where to head for a good Maharashtrian
breakfast in Mumbai
. In case it matters to you, all of this food is vegetarian. Here's my best Maharashtrian Breakfast list for you, to help you start your foodie explorations in Mumbai.
CST
Canon pav bhaaji : sabudana khichdi, Kunal Vijayakar's pick
Aram: Masala chai with misal, kathambir vadi, batata vada, Harshad Rajadhyaksha's pick
Nariman Point
Kutumbsakhi: Pohe, Sabudana vada, Tara Deshpande's pick
Girgaum
Vinay Health Home: sabudana vada
Dadar
Prakash: Puri bhaaji, missal. Saee Koranne Khandekar's pick: vangee pohe, Abhijit Desai's pick: sabudana vada
Aaswad: Misal, thali peeth, Shakti Salgaokar Yezdani's pick (and mine): pohe, Sassy Fork's picks: pohe and misal
Gypsy Corner: Shakti's pick: Mattar pattice
Bandra East
Mr. Kamble's shack outside Guru Nanak Hospital: Pohe with chhas
Goregaon East and Mumbai Pune/ Goa Highway
Shree Datta Snacks: Soumitra Velkar and Anjali Koli's pick: sabudana khichdi
About the Author:Kalyan loves to eat and he loves to talk about all that he eats. His wife urged him to start writing about it, otherwise she would have to hear it all. He blogs as 'finelychopped' and is the author of The Travelling Belly published by Hachette Publications.Disclaimer:The opinions expressed within this article are the personal opinions of the author. NDTV is not responsible for the accuracy, completeness, suitability, or validity of any information on this article. All information is provided on an as-is basis. The information, facts or opinions appearing in the article do not reflect the views of NDTV and NDTV does not assume any responsibility or liability for the same.