Story Progress
Back to home
Amaranth Flour, Carrot and Raisin Cookies Recipe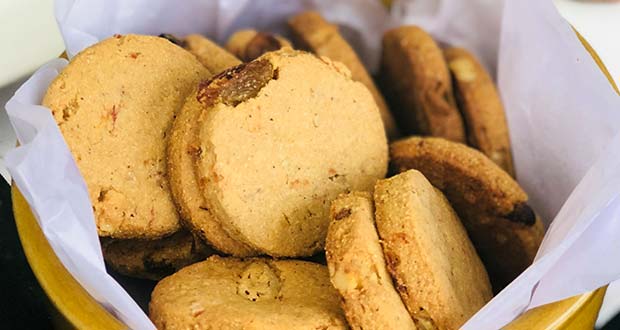 How to make Amaranth Flour, Carrot and Raisin Cookies
These healthy cookies are surely to be your next favourite tea-time cookies.

Ingredients of Amaranth Flour, Carrot and Raisin Cookies
2 Cup Amaranth flour
1 tsp Baking powder
1/2 tsp Salt
1/2 tsp Ginger
1/2 tsp Cinnamon
1/8 tsp Cardamom
120 gram Sugar
1/4 cup Butter, melted
1/4 cup Maple syrup
1 cup Carrots, grated
1/2 cup Walnuts, chopped
1/4 cup Raisins
1.
Preheat oven to 375 degrees.
2.
Combine amaranth flour, baking powder, salt, ginger, cinnamon and cardamom in a large bowl and mix well.
3.
In a medium bowl, combine sugar, melted butter and maple syrup.
4.
Whisk together until smooth and then stir in carrots.
5.
Mix wet ingredients with dry ingredients using a spatula until just combined.
6.
Gently stir in the walnuts and raisins.
7.
Using the palm of your hand, flatten the cookies in to ½ inch thickness.
8.
Place them relatively close to one another over the silpat and bake for 12-15 mins.
9.
Remove from the oven and allow it to cool.