Story Progress
Back to home
Ambur Mutton Biryani Recipe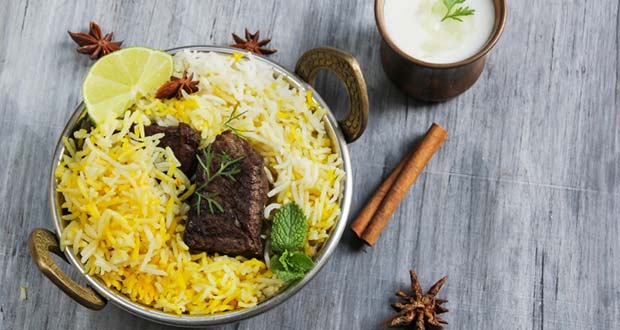 How to make Ambur Mutton Biryani
A fragrant preparation, surprise your friends at dinner with this authentic biryani from Ambur in Tamil Nadu. A complete meal, the lamb soaks in all the flavours really well leaving you wanting for more.
Total Cook Time

1 hr 15 mins

Ingredients of Ambur Mutton Biryani
1 kg of rice (Basmati or Seeraga Samba)
1 kg of mutton, chopped
200 ml of refined oil
2 Tbsp of ghee
50 gm of curd
300 gm tomato, finely chopped
400 gm onion, finely chopped
2 cinnamon sticks
4 cardamom pods
4 cloves
A small bunch of coriander
A small bunch of mint leaves
1/2 lemon
2 green chillies
1 tsp of chilli powder
100 gm of garlic, peeled and pounded into a paste
80 gm of ginger, pounded
Salt to taste
1.
Heat oil in a kadai and add the whole spices. Let them crackle and then gradually add half the quantity of onions. Saute for 3-4 minutes.
2.
Add the garlic paste, ginger paste and then the red chilli powder and mix well.
3.
Add the mutton pieces, salt, tomatoes and the remaining onions, and mix well.
4.
Add the green chillies, curd and lemon juice.
5.
Fry the meat for 12-15 minutes, adding a little water and then pressure cook this (the korma) for about 20 minutes.
6.
Cook the rice for about 5 minutes in a separate vessel and then drain the excess water.
7.
Bring the korma and the rice together in a heavy bottomed cooking vessel, carefully arranging them in multiple layers. Sprinkle the ghee as you layer the rice and the korma.
8.
Add the finely chopped coriander, mint leaves and salt (to taste).
9.
Cover the vessel with a thin cloth and cook on a low flame for about 10 minutes in 'dum style'.
10.
Note: You could place a larger vessel with water under this vessel as a precaution (to ensure the biryani doesn't stick to the vessel).