Story Progress
Back to home
Bajra Crepe with Chocolate Sauce Recipe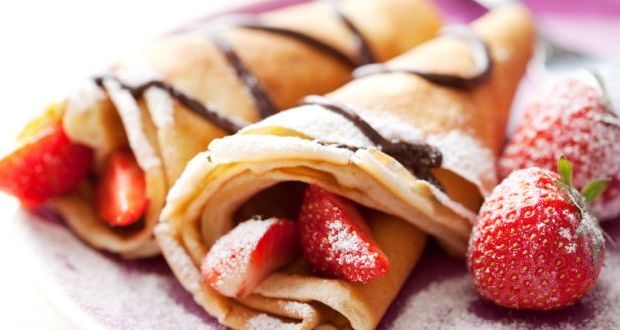 Nothing like a wholesome breakfast! Mix in some bajra flour in your crepe and savour it with chocolate sauce and fresh strawberries. Or just drizzle some honey on top.
Total Cook Time

1 hr 10 mins

Ingredients of Bajra Crepe with Chocolate Sauce
1/2 cup bajra flour
1/2 cup wheat flour
4 large eggs
1 Tbsp caster sugar
A pinch of salt
1 1/2 cups milk
1/4 cup butter, melted
For the Chocolate Sauce
75 gm compound chocolate
200 ml thick cream
20 gm butter
1 Tbsp caster sugar
1.
If you are using an electric beater, whisk the eggs and sugar in a mixing bowl until light and fluffy. Sift together bajra flour, wheat flour and salt in a separate bowl and gradually add to the egg and sugar mixture while whisking continuously. Add milk and whisk well to make a smooth and runny batter. Finish with butter and give it a final whisk.
2.
If you are using a blender; add eggs, sugar, butter, bajra flour, wheat flour, milk and salt, and blend well until you achieve a smooth and runny batter.
3.
Let the batter rest for 30 minutes.
4.
Heat a non-stick pan over medium flame and lightly butter the surface.
5.
Take a ladle of the batter and pour it at the centre of the pan. Then using the handle, swirl the pan to let the batter spread out evenly over the surface.
6.
Let it cook for 2-3 minutes. Then scrape the edges and carefully flip the crepe to cook the other side.
7.
Let it cook for a minute and then slide it off the pan onto the plate. Repeat the process with the remaining batter.
9.
Melt the chocolate in a double boiler and keep it aside.
10.
In a saucepan, heat cream, butter and sugar over medium flame until well blended, about 3-4 minutes.
11.
Switch off the flame and pour the cream over the melted chocolate. Mix well.
13.
Serve the crepes hot drizzled with chocolate sauce and topped with fresh strawberries.