Story Progress
Back to home
Baked Apples in Honey and Lemon Recipe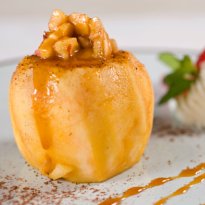 Honey and lemon, packed into apples and then oven baked to make this delicious yet easy dessert.

Ingredients of Baked Apples in Honey and Lemon
4 medium cooking apples
1 Tbsp honey
Grated rind and juice of a lemon
1 Tbsp butter-melted
1.
Preheat the oven to 200 degree C.
2.
Core the apples, leaving them whole.
3.
Cut four squares of double thickness foil and brush with butter.
4.
With a knife, cut lines through the apple skin at regular intervals.
5.
Mix together the honey, lemon rind, juice and butter in a small bowl.
6.
Spoon the mixture into the apples and wrap in foil, sealing the edges securely.
7.
Cook in the oven for 20 minutes until the apples are tender.