Story Progress
Back to home
Baked Nut Crusted Halibut Recipe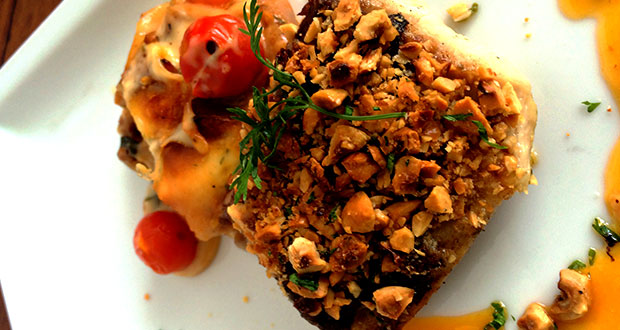 Halibut is a firm white fish that is delicious when baked. Wrap the fish with chopped almonds and hazelnuts and bake this golden. Finish the dish, by drizzling some a zingy orange-ginger sauce. Well that's not where it ends, to add to that we also a tangy white onion torte and some garlic , orange sauce.
Total Cook Time

1 hr 15 mins

Ingredients of Baked Nut Crusted Halibut
For the baked Halibut :
6 halibut fillets
salt and pepper, to taste
1 tbsp of lime juice
60 ml of extra virgin olive oil
90 ml of cooking olive oil
4 tbsp of butter
3 ½ tbsp of crushed almonds
3 ½ tbsp of crushed hazelnuts
For cherry tomato and white onion torte :
4 large white onions
2 cups of cherry tomato
4 tbsp of butter
4 tbsp of béchamel sauce
6 ½ tbsp of cheddar cheese
For the orange ginger sauce :
8 tbsp of orange juice, freshly squeezed
2 tbsp of butter, clarified
4 tbsp of butter, frozen and cubed
a pinch of garlic, finely minced
1/2 tbsp of ginger, grated
Salt to taste
A pinch of pepper - a pinch
Sugar to taste
1.
For the Cherry Tomato and White Onion Torte:
2.
Dice the onions and halve the cherry tomatoes.
3.
Heat butter in a heavy bottomed pan, add the diced onion and sauté over high heat. Add the
4.
tomatoes once the onions have softened and turned translucent.
5.
Add white sauce and grated cheddar cheese.
6.
Put into a buttered and breaded pie dish.
7.
Bake at a 180*C for 40 minutes.
For the Orange-Ginger Sauce:
1.
Heat the butter in a saucepan, add the minced garlic and sauté till light golden brown.
2.
Add the orange juice and bring to a low summer. Reduce till slightly syrupy
3.
Add the grated ginger, season to taste with salt and pepper.
4.
Add sugar only if the sauce tastes too sour.
5.
Add the orange zest and remove the pan from the fire.
6.
Finally whisk in the cubes of frozen butter, gradually and one at a time.
7.
Sprinkle around the fish or serve in a sauce boat.
9.
Sprinkle the lime juice and extra virgin olive oil over the halibut fillets and season with salt and
11.
Heat a heavy skillet, sprinkle the cooking olive oil and add the butter, add the halibut
12.
fillets to the pan, skin side down and cook over moderate heat till the skin crisps up and colours to a dark golden brown.
13.
Place the fillets, skin side down, on a baking tray lined with parchment or a baking sheet,
14.
sprinkle the chopped nuts over the fillets to cover in an uniform layer.
15.
Bake in a pre-heated oven at a 180*C for 20 minutes,
16.
Serve immediately with a helping of the cherry tomato and white onion torte and a sprinkling off the orange-ginger sauce.