Story Progress
Back to home
Baked Potato Wedges Recipe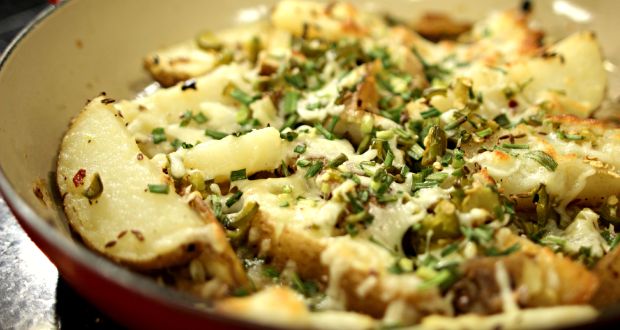 A quick and easy serving of crisp potato wedges baked with olive oil, cumin, jalapenos and cheese.

Ingredients of Baked Potato Wedges
2 par-boiled potatoes
2 Tbsp olive oil
1 tsp cumin
1/2 tsp chili flakes
1 jalapeno, chopped
Grated cheese
Handful chopped spring onion
1.
1. Pre-heat the cooking pan and drizzle with olive oil.
2.
2. Cut 2 par-boiled potatoes with the skin into wedges and drop into the pan. Add cumin, chili flakes & salt and pepper and cook the wedges till they are crusty and crispy.
3.
3. Add a chopped jalapeno into the pan, sprinkle some grated cheese and spring onions & spray with olive oil.
4.
4. Put the pan into the oven for 8-10 minutes at 180 degree.