Story Progress
Back to home
Bhapa Mishti Doi With Apple And Cinnamon Halwa Recipe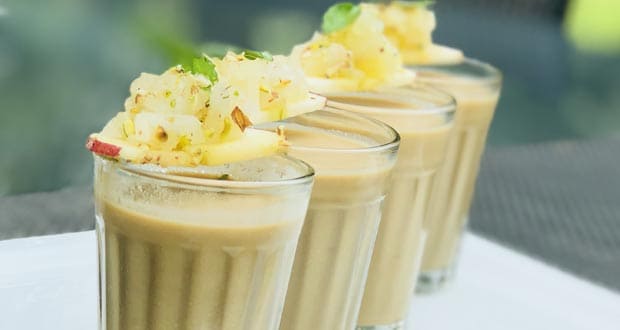 How to make Bhapa Mishti Doi with Apple and Cinnamon Halwa
Your favourite traditional Indian dessert, Halwa with a twist! Halwa is the quintessential dessert that is not just popular in India but in other Asian and Middle eastern countries as well. raditionally it was prepared with semolina/rawa seeds and nuts but in the recent times we got to see a lot of variations with vegetables and fruits as well. This one here is another one where Apple halwa is served along with Mishti Doi. A must try for the festive season!

Ingredients of Bhapa Mishti Doi With Apple And Cinnamon Halwa
For Bhapa Mishti Doi:
1 cup Thick Yogurt
1/2 cup Thick Coconut Milk
1/4 cup Low Fat Cream
1/4 cup Homemade Condensed Milk
1/4 cup Organic Jaggery
1/4 cup Milk Chocolate/Dark Chocolate
For Apple Halwa:
2 Apples, grated
1/4 cup Condensed Milk
2 tbsp Sugar
1/4 tsp Cinnamon Powder
A pinch of Clove Powder
1/4 tsp Cardamom Powder
2 tbsp Raisins
As required Ghee
How to Make Bhapa Mishti Doi With Apple And Cinnamon Halwa
Hide

Show

Media
Prepare Mishti Doi:
1.
Melt the jagerry on stove top. Microwave the chocolate for 30 seconds. If it's not melted, mix it with the jagerry to melt it completely.
2.
Take yogurt, coconut milk, home made condensed milk, low fat cream and whisk them well.
3.
When the jagerry and chocolate mixture is lukewarm add to the yogurt mix and whisk everything well until properly combined, smooth and creamy.
4.
Take oven safe bowls pour the yogurt into them. Place the pots on a tray and fill the tray with hot water in such a way that the bottom of pots are immersed in water.
5.
Bake in a preheated oven at 180 degrees for 30 minutes or until the top is firm.
6.
Allow it to come down to room temperature then refrigerate for 3-4 hours before serving.
Prepare Apple Halwa:
1.
Grease a pan with ghee and fry the raisins. Remove and keep to the side.
2.
Combine apples, cinnamon powder, clove powder, and cardamom powder in the same pan. Cook, stirring continuously, on low flame.
3.
Add sugar and condensed milk. Stir on low flame until it thickens.
4.
Smear a plate with ghee and transfer the cooked halwa into it.
5.
Flatten it gently and top up with fried raisins. Let it cool.
6.
Slice into preferred shapes and serve thereafter.
7.
Now place a spoon of apple halwa on top of baked Bhapa mishti doi and serve.