Story Progress
Back to home
Bharwan Shimla Mirch Recipe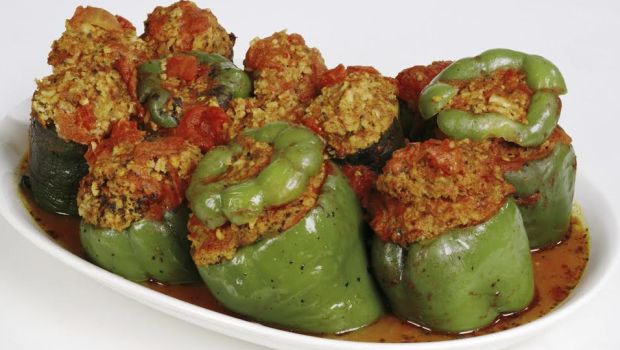 How to make Bharwan Shimla Mirch
Capsicum de-seeded and stuffed with a mixture of potatoes, cottage cheese, cashews, raisins and baked to perfection.

Ingredients of Bharwan Shimla Mirch
2 tsp refined oil
1 tsp cumin
1 onion, chopped
1 tsp ginger, chopped
1 clove garlic, minced
1 green chilli, chopped
1 tsp coriander powder
Salt, to taste
1/2 tsp red chilli powder
5-6 cashew nuts, coarsely bashed
5-6 raisins
1 tsp butter
1 large potato, boiled and mashed
1/2 cup paneer, mashed + 1 Tbsp to garnish
1 tsp mustard sauce
Juice of 1/2 lime
1 tsp chaat masala
1 Tbsp fresh coriander
4 capsicums, de seeded
2 tsp oil, to sear the capsicum
1.
Pre-heat the oven for 10 minutes at 180 degrees C.
2.
In a pan add 1 tsp butter and lightly saute cashew nuts and raisins for 2 minutes. Keep aside.
3.
In a pan add 2 tsp refined oil, cumin. Saute onions, ginger, garlic and green chilli.
4.
Now add the coriander powder, salt, red chilli powder. Add a little water to de-glaze.
5.
Now add the sauteed dry fruits, mashed potatoes, mashed paneer. Mix it well and add mustard sauce, lime juice, chaat masala and fresh coriander leaves. Mix well and keep aside. The stuffing is ready.
6.
In a pan add 2 tsp oil. Place the de seeded capsicums and sear them till brown spots appear on all sides.
7.
Stuff the capsicums with the prepared stuffing. Garnish with some grated paneer. Sprinkle some chaat masala if desired and bake in the oven for 10 minutes at 180 degrees C.