Story Progress
Back to home
Capsicum Masala Recipe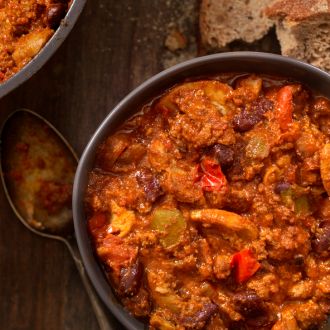 How to make Capsicum Masala
The perfect blend of roasted peanut and sesame seeds with sweet bell peppers makes for a delicious combination.

Ingredients of Capsicum Masala
1 cup of diced green capsicum and red and yellow bell peppers
1 tomato (pureed)
1 onion (diced)
1 onion (chopped finely)
1 Tbsp ginger garlic paste
2 Tbsp oil
1 tsp red chili powder
1 tsp turmeric powder
1 tsp coriander powder
1 tsp garam masala powder
3 Tbsp sesame seeds
3 Tbsp peanuts
Salt to taste
1.
Roast the peanuts and sesame seeds. Grind to make a fine paste. Keep it aside.
2.
Sauté diced bell peppers, onion and remove to keep aside.
3.
In the same pan, add finely chopped onions. Sauté well till golden brown.
4.
Add ginger garlic paste and tomato puree. Stir well.
5.
Add red chili powder, turmeric powder, coriander powder, garam masala powder and salt to taste.
6.
Now add sesame and peanut paste.
7.
Add a little water to make semi liquid gravy.
8.
Keep it on slow fire for 5 min, till the oil oozes out from the gravy.
9.
Finally add sautéed diced capsicum, bell peppers and onion and keep it on flame for 5 minutes.
10.
Garnish with chopped coriander and serve hot with steamed rice or Indian breads.