Story Progress
Back to home
Black Bean Salad Recipe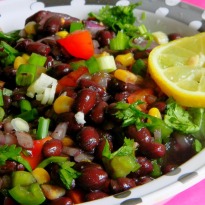 Winner of the weekly Guilt Free contest makes a healthy low-fat black bean salad. Do not like black beans? Not to worry, swap it with red kidney beans or chickpeas.

Ingredients of Black Bean Salad
1 can (15 oz) cooked black beans
1/2 cup onion, finely chopped
1 tomato, finely chopped
1/2 green bell pepper, finely chopped
1/2 cup of corn, boiled
1 Tbsp of jalapenos, Chopped
1 Tbsp of goya adoba all purpose seasoning
1 Tbsp of goya sazonador total seasoning
Dash of Pepper
Dash of salt
2 Tbsp of lemon juice
1 Tbsp of olive oil or chipotle mayonnaise
To Garnish:
1 green onion, finely chopped
2 Tbsp of cilantro, finely chopped
1.
Boil the corn in microwave for 2-3 minutes.
2.
Combine all the ingredients in a large bowl and mix well.
3.
Cover and chill it for 15-30 minutes.
4.
Right before serving, garnish it with chopped green onion and cilantro.
5.
If you don't get black beans, try the same recipe with chick peas/chenna, rajma etc.
6.
Black bean salad is ready to serve.
7.
Gayathri Ramanan, winner of the Guilt Free contest: Week 8.