Story Progress
Back to home
Brownie Bottom Cheesecake Recipe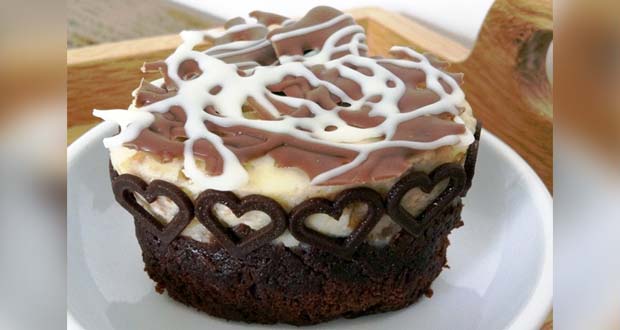 How to make Brownie Bottom Cheesecake
Image Credit: Praveen Gonsalves
About Brownie Bottom Cheesecake Recipe: Two-desserts in one? Yes, please! A gooey chocolate brownie with a vanilla cheesecake topping.
Total Cook Time

1 hr 25 mins

Ingredients of Brownie Bottom Cheesecake
For brownie bottom:
125 gms unsalted butter (room temperature)
125 gms dark compound chocolate
250 gms sugar
2 Eggs
100 ml milk
150 gms refined flour
For cheesecake topping:
550 gms cream cheese (room temperature)
175 gms sugar
4 Eggs
1 tsp vanilla essence
175 gms hung curd
for garnishing Melted Dark and white chocolate
Prepare the Brownie:
1.
Place the chocolate & butter in a large sauce pan and melt over a double boiler. Add sugar and mix well, set aside let it cool.
2.
Using a hand blender , add milk & eggs one by one and beat on a low speed. Mix well and fold in the flour and mix well. Spoon the batter in a prepared 2 inch muffin cup.
3.
Place the prepared molds in a tray and bake in a moderate hot oven 180 degrees for 20 to 25 minutes.
4.
Once the brownies are bake remove from oven and set aside to cool.
Prepare the topping:
1.
In a large mixing bowl place all the ingredients and with a hand blender beat well till lite and fluffy.
2.
Pour the cheese mixture on the baked brownies and place it back on the trays and bake on 160 degrees for another 35 to 40 minutes or till the center is well cooked.
3.
Remove from oven and allow it to cool in a refrigerator about 8 to 10 hours.
4.
Melt the dark and white chocolate separately in a microwave and drizzle over the prepared cheese cake before serving.
Recipe Notes
Do not add baking powder or baking soda to the brownie. You can use a table spoon of coco powder to the brownie recipe if you like the brownie to be little bitter.