Story Progress
Back to home
Buckwheat Chocolate Walnut Brownie Recipe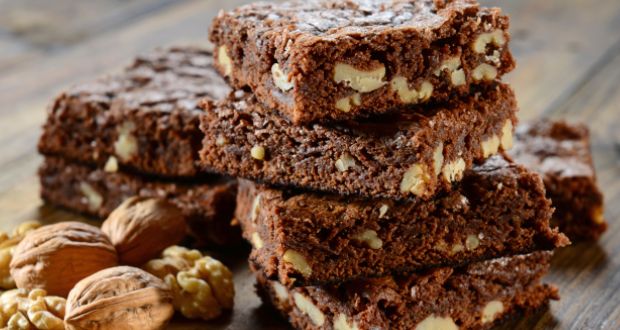 Who can deny a decadent piece of dark chocolate brownie? This one is made with buckwheat flour and loaded with walnuts and cacao nibs. Bet you won't be able to tell the difference!
Total Cook Time

1 hr 10 mins

Ingredients of Buckwheat Chocolate Walnut Brownie
125 gm compound dark chocolate
75 gm butter
1 cup brown sugar
3/4 cup buckwheat flour
1/4 cup cocoa powder
1/2 tsp baking powder
2 eggs
1/4 cup warm milk, if required
1/2 cup walnuts, chopped
2 Tbsp cacao nibs
1.
Pre-heat the oven at 100 degree C for 5 minutes. Grease a 9x9 inch baking tray with a little oil, place a butter paper and keep it aside.
2.
Melt chocolate and butter in a bowl using a microwave or a double boiler. Mix to combine well.
3.
In another mixing bowl, whisk the eggs until light and fluffy. Add the sugar, a little at a time, and whisk well.
4.
Add the chocolate and butter mixture and combine well.
5.
Sift together the cocoa powder, buckwheat flour and baking powder. Add to the wet batter, one tablespoon at a time, and fold well.
6.
Toss the walnuts and cacao nibs in 1 tsp wheat flour.
7.
Pour the chocolate batter into the baking tray and throw in the walnuts and cacao nibs in between. Bake in the oven for 20 minutes at 150 degree C until firm on the outside. The inside will remain a little gooey.
8.
Remove from the oven, let it cool and cut into squares.