Story Progress
Back to home
Cashew Pesto Recipe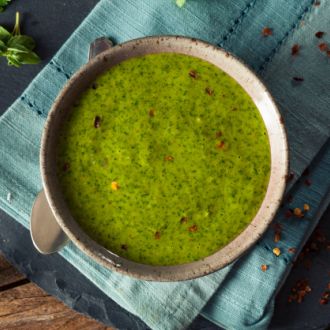 The popular Italian condiment gets an Indian makeover with curry leaves and cashews blending together to create a relishing treat. Toss your pastas with it for a desi twist.

Ingredients of Cashew Pesto
50 gm curry leaves
2 garlic cloves
1 Tbsp cashew nut
150 ml olive oil
2 Tbsp Parmigiano Reggiano
2 Tbsp Pecorino cheese
1 tsp sea salt
1.
1. Start by pounding the garlic and salt in the mortar with a wooden pestle, until you get a smooth paste.
2.
2. Add the curry leaves, a handful at a time, and keep grinding using a circular motion until each batch of the leaves is incorporated. Make sure you are not too rough with the curry leaves; it's important to preserve the essential oils.
3.
3. Add the cashew nut and grind some more.
4.
4. Add the cheeses and mix well.
5.
5. Add the oil, little by little, until the pesto has the right consistency. Try this with spaghetti, linguine or fusilli.