Story Progress
Back to home
Cherry Tomato Onion Crostini Recipe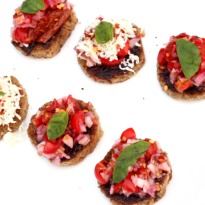 Crisp oven toasted bread is smeared with a mixture of red wine enhanced prune paste and a delicious cherry tomato onion mixture.
Total Cook Time

01 mins 20 seconds

Ingredients of Cherry Tomato Onion Crostini
1 large shallot, diced
2 tablespoons red wine vinegar
Salt and pepper
2 Tbsp of olive oil
1 cup of cherry tomatoes
Whole wheat bread cut into roundels
Red pepper flakes
A bunch of basil leaves
Garlic flavoured oil
Prune paste
12-15 pitted prunes
1 cup of red wine
A stick of cinnamon
A piece of star anise
1.
Soak prunes overnight in red wine. Add a stick of cinnamon and star anise, boil this for ten minutes, and puree this in a mixie till you get a paste.
2.
In a glass bowl, marinate the shallot in red wine vinegar for about an hour. After a while, add salt, and olive oil. Then the cherry tomatoes, salt and fresh pepper and leave aside for 20 minutes.
3.
Cut out breads into round shapes, and paint some garlic flavoured oil on it and toast them in the oven till crisp.
4.
Then slather on some prune paste. Spoon a dollop of the cherry tomato onion mixture.
5.
Sprinkle red chilli flakes, and cap it with a basil leaf. Your crostini is ready to serve.