Story Progress
Back to home
Chicken Handi Kebab (Bangladeshi Style) Recipe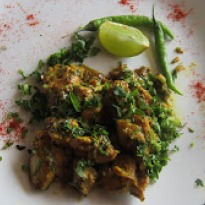 How to make Chicken Handi Kebab (Bangladeshi Style)
Boneless pieces of chicken marinated in yogurt. Cooked with cardamoms, fried onions and masalas to make an exquisite dish.

Ingredients of Chicken Handi Kebab (Bangladeshi Style)
300 gm boneless chicken thigh cut into small chunks (You can use chicken breast but the thigh turns out far more tender)
2/4 cup yogurt (Thick)
1 tsp + 1 tsp oil
3/4 cup sliced onion
3 green cardamoms
2 black cardamom
2 Tbsp garlic paste
3/4 tsp chilli powder
1 tsp black pepper powder
3/4 tsp sugar
Salt to taste
1/2 cup coriander chopped
1 tsp lemon juice
1.
Start by marinating chicken chunks in yogurt for 20 minutes.
2.
Put 1 tsp oil in pan and fry onions till nice and brown. Keep aside.
3.
Now take a pan and add 1 tsp oil and add the cardamoms. Cook a bit.
4.
Add the chicken with marinade, garlic paste, sugar, chilli powder, black pepper powder, haldi and salt to taste. Don't overdo the salt as you can always adjust later.
5.
Cover on low heat for 10 minutes. Now uncover and add the coriander and onions and cook on low flame.
6.
Let it dry up so the gravy is almost like a thick masala around the chicken.
7.
Squeeze lemon and garnish with some more coriander.