Story Progress
Back to home
Chicken in Rum with Pineapple Recipe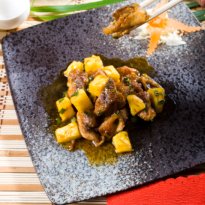 Tender chunks of chicken, rum, lemon and pineapple come together and make for an interesting medley of flavors in this dish.

Ingredients of Chicken in Rum with Pineapple
1 kg chicken
1/2 cup rum
2 Tbsp lemon juice
1/2 tsp tabasco or chilli sauce
Salt and pepper as required
1 large tin pineapple
1/2 cup olive oil
1/2 cupbutter
6 garlic cloves, chopped
1.
Rub the chicken pieces in salt and pepper and set aside.
2.
Now melt butter and oil in a pan and fry the chicken pieces until brown.
3.
Then add chopped garlic and fry till golden.Lower the heat and add 1/4 cup rum, Tabasco, lemon juice and the syrup from the pineapple tin.
4.
Cook on low heat till the chicken is tender.
5.
Then glaze the pineapple pieces by sprinkling brown sugar on them and frying them in butter.
6.
Before serving add the remaining 1/4 cup of rum and cook for 2-3 minutes more.