Story Progress
Back to home
Chicken Pasta Salad Recipe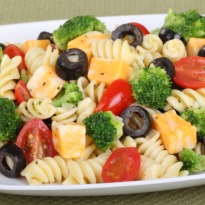 How to make Chicken Pasta Salad
An interesting and refreshing, Chicken Pasta Salad recipe. Fusilli, broccoli, cherry tomatoes and sweet corn tossed together and drizzled with a honey-soy dressing.
Total Cook Time

45 mins 10 seconds

Prep Time

15 mins 10 seconds

Ingredients of Chicken Pasta Salad
For the Chicken Pasta Salad:
225 gms fusilli (pasta twirls)
125 gms broccoli (cut into small florets)
175 gms cherry or baby tomatoes (cut in half)
1 x 198 gm tin of sweetcorn (drained)
125 gms chicken (cooked, cut into small pieces)
2 spring onions, finely chopped
For the Honey and Soy Dressing:
4 tbsp olive oil
1 tbsp soy sauce
1 tbsp balsamic vinegar
1 tbsp runny honey
1/2 tsp sugar
A pinch of salt and freshly ground black pepper
1.
Cook the pasta according to the packet instructions.
2.
Steam the broccoli for about 4 minutes or blanch in lightly salted hot water for a couple of minutes until the broccoli florets turn soft.
3.
Meanwhile, whisk together all the ingredients for the dressing.
4.
Drain the pasta and combine with the broccoli, cherry tomatoes, sweet corn, chopped chicken and spring onions in a large bowl.
5.
Toss with the dressing and serve.