Story Progress
Back to home
Sunday Chicken Roast Recipe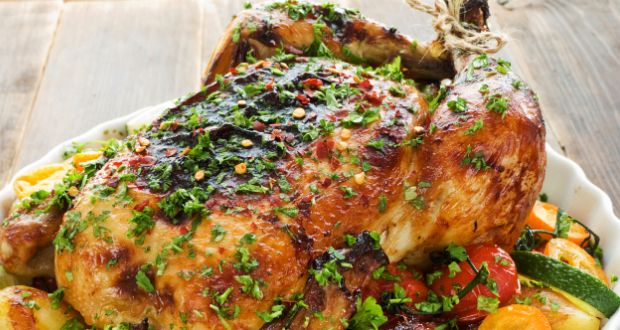 Roasted chicken - enchanting, succulent and downright delicious.
Total Cook Time

2 hrs 15 mins

Ingredients of Sunday Chicken Roast
One full corn fed chicken, that's around 1.5 kg.
Olive oil- 2 to 3 TBSP
Fresh rosemary
Fresh thyme
Pinch of a mix of dried herbs
Whole garlic pods - 6 to 7
One lemon thinly sliced
Freshly made chicken stock
8 to 10 baby potatoes (small ones)
2 stalks of celery
2 onions
1 carrots
A brush of butter on top (optional)
Sea salt
Fresh black pepper
Tips
Stock your fridge with home made chicken stock.
Chicken stock can be made from chicken wings, carrot, onion, bay leaf, peppercorns and salt.
Grind your fresh herbs to release their flavour.
Don't salt your chicken way in advance, it will rob all the moisture away from it.
1.
Take the chicken with skin on, and remove the unmentionables.
2.
Take the garlic pods with the skin on, and smash them with a knife. Stuff the cavity of the chicken with the lemon and the garlic.
3.
You can truss the chicken, many prefer to sew the chicken up.
4.
Take a mortar and pestle, pour the olive oil in it, and add the rosemary and thyme leaves.
6.
Lightly massage the chicken with the flavoured olive oil.
7.
Sprinkle a bit of the mixed dried herbs too. And some minced garlic.
8.
Then add sea salt and freshly ground black pepper.
9.
Now pour some chicken stock into the roasting pan (Get recipe: Fresh Chicken Stock)
10.
Add roughly chopped celery, carrots and mini potatoes.
11.
Then put the chicken in, it should fit snugly in the pan.
12.
For kids, brush a swipe of butter on top. Put the pan the oven for 90 minutes at 190 degrees.
13.
Turn the chicken over once or twice in the middle.
14.
Let the chicken rest for ten minutes before you carve it. Spoon the gravy on top.