Story Progress
Back to home
Chicken Satay with Peanut Sauce Recipe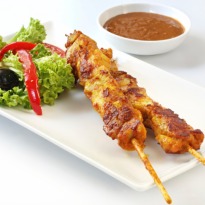 How to make Chicken Satay with Peanut Sauce
Marinated chicken pieces on skewer cooked with a twist of peanut butter sauce.

Ingredients of Chicken Satay with Peanut Sauce
For Chicken Marinade:
1 Boneless Chicken (diced)
1 Tbsp Oil
2 Tbsp Soya sauce
1 Tbsp Sugar
4-5 tsp Lemon Juice
2 tsp Garlic (crushed)
To taste Salt
To taste Pepper
Satay Skewers
For Peanut Sauce:
1 Large Onion
1 Nos Garlic
4-5 Red chillies
2 Tbsp Oil
1 Cup Peanut Butter
2-3 Lemon Juice
1-2 Tbsp Sugar
To taste Salt
4 Cups Water
For Basting Sauce:
4 Tbsp Peanut sauce
3 Tbsp Soya sauce
2 Tbsp Oil
For Chicken Marinade:
1.
Marinate the chicken for at least two hours.
2.
Then pierce 4-5 pieces of chicken per skewer.
For Peanut Sauce:
1.
Grind the onion, chillies and garlic together.
2.
Heat oil in a pan and saute the onion paste for some time. Mix in the peanut butter, add salt and sugar and stir. Pour in water and cook until you get a smooth sauce. Add lemon juice and switch off the gas.
For Basting Sauce:
1.
Mix the peanut sauce with the oil and soya sauce.
For Satay:
1.
Pan grill the chicken. When done, cover it with the basting sauce. Let it cook for some time.
2.
Serve hot with peanut sauce.