Story Progress
Back to home
Chicken Sizzlers Recipe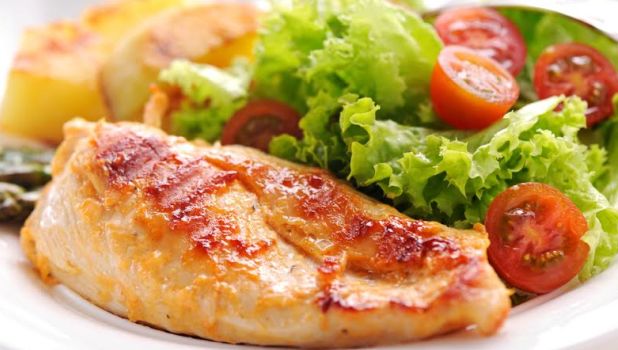 How to make Chicken Sizzlers
Marinated chicken breast, fried and served on a hot plate. These chicken sizzlers are a sure shot dinner party hit.

Ingredients of Chicken Sizzlers
4 large chicken breasts - boneless
1 tsp ginger paste
1 tsp garlic paste
1 cup onions - finely chopped
2 Tbsp coriander leaves - chopped
2 green chillies - finely chopped
1 Tbsp black pepper powder
1 tsp vinegar
Salt to taste
Sizzler plates
Oil as required
1.
Wipe the chicken breasts and beat with a mallet or a knife to flatten. Cut each into two pieces.
2.
Mix the chicken with the other ingredients, except oil. Put aside to marinate for 2 hours or so.
3.
Heat a frying pan with a thin layer of oil and add the chicken to it, over high heat.
4.
Turn the chicken and then lower the heat and cook till tender, turning once so that it is brown on both sides.
5.
Before placing the chicken on the sizzler plate, heat the iron plate very hot.
6.
Place whatever accompaniments you are serving with it and immediately before serving on the table, splash some water and oil on it, and you will get the sizzling and fumes.