Story Progress
Back to home
Spanish Fried Chicken Recipe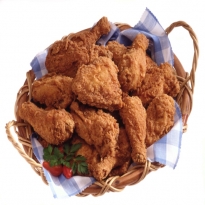 Chicken the way they like it in Spain, first poached and then fried crisp with garlic

Ingredients of Spanish Fried Chicken
1 chicken - cut into curry sized pieces
2 Tbsp garlic
1 Tbsp dried red chillies
Rock salt to taste
70 ml olive oil oil for poaching
For the Garlic Mayonnaise:
100 gm peeled garlic
70 gm olive oil
Salt
1 egg yolk
For the Tomato Salsa:
200 gm tomatoes
8-10 garlic cloves
20 ml olive oil
Dash of sherry
Salt to taste.
1.
Poach the chicken in the oil on a slow flame until cooked. Drain.
2.
Heat the olive oil and fry the chicken until the skin is crisp.
3.
Sprinkle with salt and lower the heat.
4.
Add garlic and allow to brown.
5.
Then toss in the chilli and serve.
7.
Blend the egg with the garlic.
8.
Continue blending while gradually pouring in the oil. Season well.
For the Salsa:
1.
Blend the garlic and gradually add tomatoes.
2.
Add remaining ingredients and serve.