Story Progress
Back to home
Chilled Cucumber Soup Recipe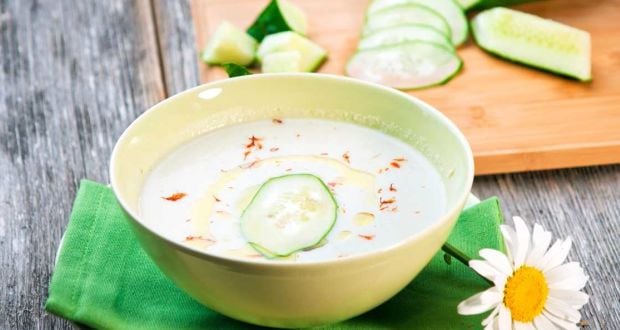 How to make Chilled Cucumber Soup
A cold soup perfect for the summer. Chilled soup with the added goodness of yogurt topped with Parmesan coated croutons. (Just when you thought soups could only be pipping hot, how about a chilling treat?)

Ingredients of Chilled Cucumber Soup
2 cucumbers, peeled and chopped
1 Tbsp yogurt, heaped
7-8 mint leaves, chopped
1 clove garlic
Salt and pepper to taste
2 tsp lemon juice
2 cups chicken stock
For the Croutons:
2 slices of bread, cut into cubes
Oil to shallow fry
For Garnishing:
1/2 cucumber, chopped
2-3 mint leaves chopped
Parmesan coated croutons
Parmesan, grated
Olive oil, to drizzle
1.
Blend the chopped cucumbers in a mixi.
2.
Add chicken stock yogurt, mint, garlic, salt, pepper and lemon juice. Blend it all together.
3.
Keep it in the fridge to cool.
For the Croutons:
1.
Cut the bread into cubes and shallow fry them.
2.
Drain them out on a plate. Grate some Parmesan cheese over it and toss.
4.
Add the chilled cucumber soup in individual bowls.Sprinkle the chopped cucumber, mint, croutons and grated parmesan on it. For the final touch drizzle some oilve oil.
5.
Serve chilled with hot croutons.