Story Progress
Back to home
Chilli Crab in Black Bean Sauce Recipe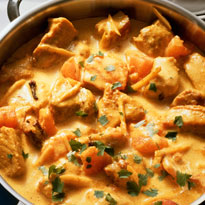 Impeccably fried crab pieces served with creamy sauce.

Ingredients of Chilli Crab in Black Bean Sauce
1 jumbo crab
2 Tbsp chopped green pepper
2 Tbsp chopped red pepper and red chillies
2 Tbsp chopped spring onions
2 Tbsp chopped onions
2 Tbsp chopped garlic
2 Tbsp chopped black beans
2 Tbsp oil
1 Tbsp water mixed with cornflour
2.
Brush a deep bottomed pan and add the oil and heat on a high flame.
3.
When the oil is boiling hot, add the pieces crab and fry.
4.
Take the pieces of crab out after 2 minutes or so.
5.
In the same pan, add the onions, garlic, green pepper, red pepper, chillies, and the black beans and stir for a few seconds before adding the crab.
6.
Continue to cook on high flame while adding a little water.
7.
Add about 1 tbsp of water mixed with cornflour to thicken the sauce.
8.
After a few minutes of sauteing, take the pan off the flame.
9.
Place the crab in a serving platter and dress with the sauce and serve.