Story Progress
Back to home
Chocolate Pizza Recipe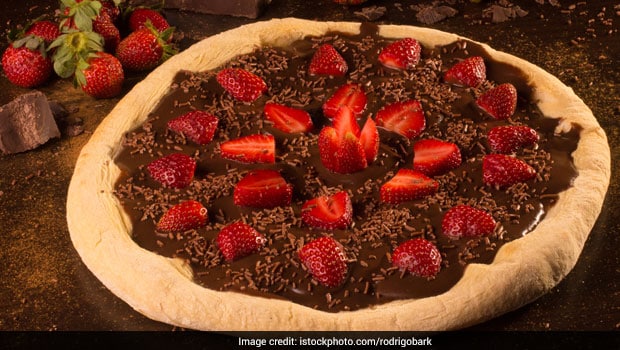 How to make Chocolate Pizza
People with a sweet tooth, here is an easy chocolate pizza recipe for you. This vegetarian pizza recipe has chocolate with nuts and is topped with fresh, chopped strawberries.This has to be the most perfect and unique dessert idea for any dinner party. What's more interesting is that this pizza recipe can be made as quickly as any other pizza recipe in a microwave and with minimum ingredients. Just toss the pizza base with nuts and chocolate mix and you are in for a delicious treat. Can it get any better?

Ingredients of Chocolate Pizza
Pizza dough
200 gram Chocolate (semi-sweet)
2 tbsp Walnuts, chopped
2 tbsp Almonds, chopped
2 tbsp Cashews, chopped
2 tbsp Milk
1 tbsp Butter
1/2 tsp Icing sugar (to garnish)
2 tbsp Strawberries or you can spread 1 Tbsp strawberry sauce before serving, chopped
1.
Roll out the dough and bake at 180 degrees till it starts to brown slightly. Take it out and keep aside. (Keep the dough 1/2 cm thick)
2.
In a microwave proof bowl add chopped chocolate, milk and butter. Microwave it for 2 minutes or till it melts with mixing it in intervals.
3.
To that mixture add the chopped nuts. Mix together and microwave it for 10 seconds.
4.
Spread this mixture on the pre cooked pizza base. Bake for 1-2 minutes at 180 degrees.
5.
Add the freshly cut strawberries on top or sprinkle some strawberry sauce on it. Dust with a little icing sugar.
6.
You can serve it chilled or warm.
Recipe Notes
To make a delicious pizza recipe at home, first learn how to perfect your pizza dough here.
Also see the best of easy pizza recipes by us.