I had the chance to grow up right around the time when fast food was making its grand debut in the country (and so was obesity). I'd long to go back home and convince my mother that tonight's dinner just had to be from the new pizza place that opened its 20th outlet nearby and that I'd worked very hard during the day to deserve it. My perfect pizza was thick, chewy, crispy in a way, tasted mostly of flour and was smeared in a tangy
tomato sauce
. It was the only kind of pizza I was familiar with back then, but can you blame me?Fast forward to today and you'll find endless varieties of pizza in the city: Neapolitan pizza with it's charred sides, the quark-shaped thick bakery pizza, deep-dish, stuffed crust pizza, deep-fried pizza (yes, that's real), thin-crust pizza or the Sicilian pizza. The good restaurants, the ones that really understand the science of pizzas, make theirs in a wood-fired oven and dress them up with the right mix of fresh herbs, protein and vegetables of your choice. And just as you slice it, you can pour a few drops of garlic oil or chilli oil to elevate the flavours.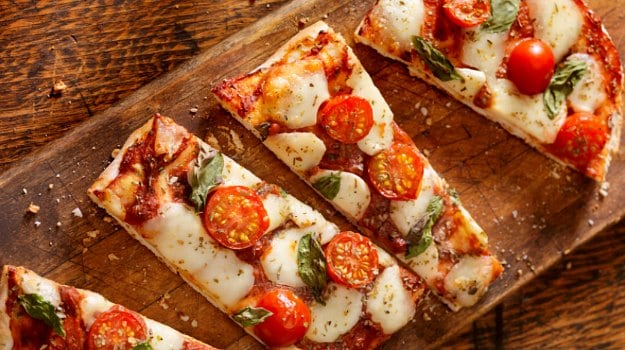 The principal ingredients of a pizza
dough
are
flour
,
salt
, water and yeast. Just four ingredients and you can create this gastronomic delight at home. I can't promise that it'll be as good as a wood-fired oven pizza, but it'll definitely be better than any that come in a cardboard box in under 30 minutes! If you search for recipes online, you'll find that though the basic ingredients you need for making pizza dough are the same, there are a few differences in the way they are used. What changes is the proportion of each, the order in which they are used, the time allowed for the dough to rise, how long its kneaded and how long should it be allowed to bake.
Flour Power
If you refer to any traditional Italian cookbook you'll find them recommending Italian pizza flour marked with the initials 'OO' and sometimes a bit of all-purpose flour along with that. Besides this, you'll also find the use of strong white flour, plain flour and baking flour. Strong flour is made from hard varieties of wheat and has a high protein and gluten content, which is what you need for charming bakery products with a firm, crumb structure.
Heston Blumenthal uses 100% pizza flour for his pizza and lets it ferment overnight so that it delivers really flavourful dough. You can use one or maybe two types of flour in the recipe. Blumenthal also uses malt syrup along with sugar to his dough which helps lend a certain sweetness to the taste. Chef Ravindra Choudhary from FIO Cookhouse and Bar says "We use an imported strong pizza flour with dry yeast, sugar, salt, olive oil, water and a bread improving agent."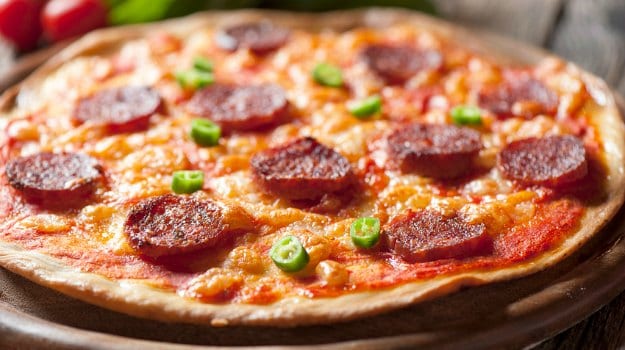 Jamie Oliver also uses strong white flour or the 'OO' variety but sprinkles the tray with semolina to give the crust a crumbly finish and a nice golden-brown colour. These flour varieties, though highly recommended might be a bit difficult to find in India. We're used to working with all-purpose flour (maida) and whole wheat flour while jowar, ragi and buckwheat flour make an occasional appearance (these are all gluten free). Laura, food blogger at onedishaway shared a really cool recipe for a base made with buckwheat flour and you can find it here. It's a bit dry to be honest, but a fantastic option if you're trying to lose weight or are gluten intolerant.
The Art of Fermentation
Here's where it gets very confusing. Some recipes require as little as 15 minutes of rising time while others go up to even 24 hours. Master chefs will tell you that the longer you let your dough ferment, the more flavourful it'll taste.
Tony Gemignani says in his book The Pizza Bible, "You'll find plenty of recipes which don't require too much kneading or rising time. These are made with a considerable amount of dry yeast and sugar, which is like giving your yeast a double espresso shot. It's a good way to make pizza but the dough won't be nearly as flavourful as it should. I want you to make dough that rises in the refrigerator for at least 24 hours, preferably 48 hours."Heston Blumenthal also leaves the dough overnight to ferment while Jamie Oliver suggests you let it ferment in a warm and dry place for about 2 hours. Most of the recipes you'll find online suggest an hour, or an hour and 10 minutes. If you're running short on time, an hour should be fine but if you've got the luxury of time, then let your dough rest for around 4 to 5 hours. If you're planning to let the dough rise for a longer period of time, then you may want to pop it into the refrigerator as that slows down the fermentation process. If you plan on leaving it only for an hour or so then let it be in a warm, dry environment.
It's All About Timing
The most important thing you must do is pre-heat your oven. Make sure it's really hot before you place the pizza dough in there. The exact cook time will depend on the kind and quantity of flour you use and the recipe you follow, but anywhere between 12-18 minutes is considered enough.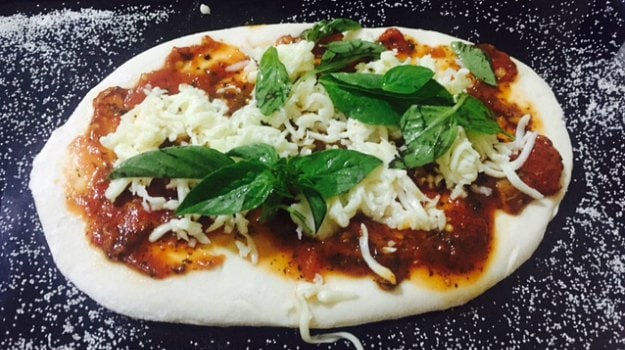 Here's a run down of all the recipes I think you should try:
Ingredients
2 cups all-purpose flour (you can use strong white flour or pizza flour if available. Chef Ravindra recommends Aahar maida for a crunchy base)
1 Tbsp sugar
2 Tbsp olive oil
1 tsp salt
7 gm dry yeast
Method
(Please note: I decided to let the dough rise for longer but if you're in a hurry then let the dough rise for an hour in a cool, dry place.)
Take the flour and add some sugar to it.
Drop the dry yeast in luke warm water and let it rest for 8 to 10 minutes. Add salt to it and stir, watch it foam.
Add some ice-cold water to the flour mix. Add the yeast and mix.
Knead the dough till it's fine and stretchy. Spend about 15 minutes on it.
Cover with a cling film and towel and let it rest in a warm place. After an hour, pop it into the refrigerator for 4 hours.
More recipes:
Pizza dough by Chef Niru Gupta
Pizza dough by Chef Joey Matthew