Story Progress
Back to home
Chorizo Penne Pasta in Tomato Sauce Recipe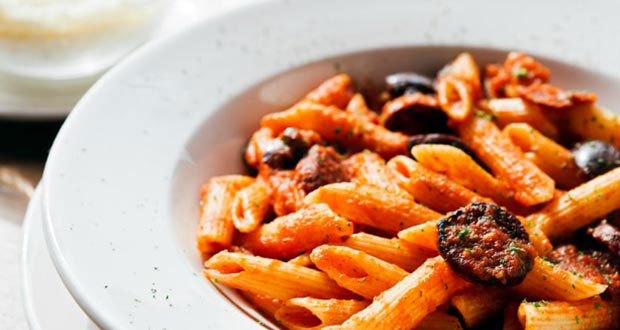 How to make Chorizo Penne Pasta in Tomato Sauce
This recipe is for the lazy cooks and pork lovers. All you need to do is add all the ingredients in a pan, and let the chorizo do its magic.

Ingredients of Chorizo Penne Pasta in Tomato Sauce
100 gm penne pasta
6 tomatoes or 1 cup tomato puree
1 tsp chopped garlic
Salt and black pepper to taste
1 Tbsp olive oil
1 cup chorizo, chopped
A few sprigs fresh basil
Parmesan shavings
1.
Boil water in a sauce pan. Add the penne pasta and let it cook till al dente. Drain and cool.
2.
Heat olive oil in a pan. Add the garlic and tomatoes and saute for 3-4 minutes.
3.
Add the chorizo and let it cook for 10-12 minutes. The sauce should develop a rich red colour.
4.
Check seasoning, and add the penne pasta. Toss well.
5.
Garnish with fresh basil and parmesan.