Story Progress
Back to home
Christmas Dry Fruit Cake Recipe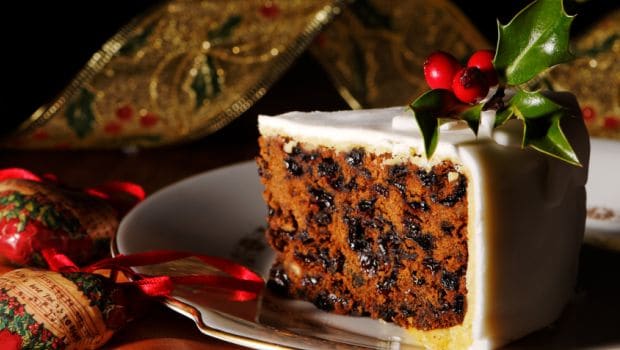 How to make Christmas Dry Fruit Cake
About Christmas Dry Fruit Cake Recipe: Bursting with the flavour of dry fruits, soaked in brandy, the traditional christmas cake takes a bit of effort but each delicious bite makes it worth your while.
Total Cook Time

4 hrs 30 mins

Ingredients of Christmas Dry Fruit Cake
2 Tbsp butter (at room temperature)
1 1/2 cups dark brown sugar
4 Eggs
3 cups flour
1/4 tsp salt
1 tsp all spice powder
1 tsp cinnamon
1/2 tsp nutmeg
1 1/2 cups currants; golden raisins; dark raisins (each)
1 1/2 cups soft dried figs, chopped
1 1/2 cups dates (pitted), chopped
1 cup prunes (stoned dried), chopped
1 3/4 cups apricots (dried), chopped
3/4 cup almonds (chopped), blanched
10 tbsp brandy
2 tsp instant espresso (mixed with 1 Tbsp water)
1.
Preheat the oven to 300°F. Grease a round 9- or 10-inch cake pan, and line bottom and sides with several layers of waxed paper.
2.
In a large bowl, with an electric mixer on high, beat the butter and sugar until it looks thick and creamy.
3.
Add the eggs, one at a time, and beat well after each addition.
4.
Sift together the flour, salt, and spices, then fold into the creamed mixture.
5.
Add the fruit, almonds, 2/3 cup brandy, and espresso, folding in well.
6.
Spoon the mixture into the prepared pan.
7.
Place the pan in the center of the oven and bake for 30 minutes.
8.
Reduce the temperature to 275°F and bake for 3 1/2 hours.
9.
Remove the pan from the oven, cover it with a thickish cloth so that the cake will cool slowly.
10.
When the cake is cool, prick the top and sprinkle some brandy.
11.
Wrap in waxed paper and store in an airtight container. Keep in a cool place for up to 3 months.