Story Progress
Back to home
Mother Christmas Cake Recipe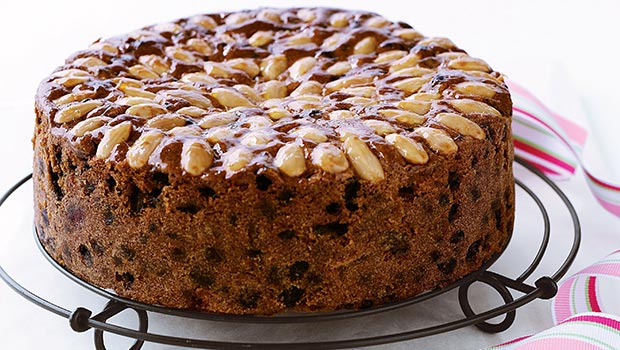 How to make Mother Christmas Cake
The classic christmas cake with delicious apple pie covered in tarts and cherries. Christmas would be incomplete without relishing on this fruity-sweet cake.
Total Cook Time

1 hr 45 mins

Ingredients of Mother Christmas Cake
3 Cups Tart Apples (2 large), peeled
2 cups Sugar
1/2 cup Apple juice
3 Eggs
3/4 cup Vegetable oil
1 tsp Vanilla extracts
3 cups All-purpose flour
2 tsp Apple pie spice (cinnamon)
1 tsp Salt
2 cups Pecans, finely chopped
1/2 pound Candied red cherries (halved)
1/2 pound Candied green cherried (halved)
1/2 pound Candied pineapple (diced)
Cashews (optional), salty
1.
Line three 8x4-inch loaf pans with waxed paper
2.
Grease the paper and set aside.
3.
In a large bowl, combine apples, sugar and apple juice; let stand for 15 minutes.
4.
In a bowl, combine the eggs, oil and vanilla.
5.
Add to apple mixture; mix well.
6.
Combine the flour, apple pie spice, baking soda and salt; add to apple mixture and mix well.
7.
Fold in pecans, cherries and pineapple.
9.
Bake at 350° for 55-65 minutes or until a toothpick inserted in the center comes out clean.
10.
Cool for 10 minutes before removing from pans to wire racks.