Story Progress
Back to home
Cornmeal Pancakes Recipe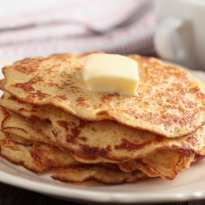 This one's a healthy breakfast winner. Pancakes made with cornmeal and whole wheat flour, and served with chilli butter.

Ingredients of Cornmeal Pancakes
150 gm cornmeal
75 gm whole wheat flour
1/2 tsp salt
1 tsp cinnamon powder
2 Tbsp vegetable oil
2 eggs - separated
250 ml whipped curd
100 ml milk
For Chilli Butter:
100 gm beaten butter
1/2 tsp garlic paste
1/4 tsp curry powder
2 chopped red chillies
Herbs
1.
Combine all the dry ingredients. Keep aside.
2.
Beat in oil, yolks, milk and curd in a mixing bowl.
3.
Beat the egg whites separately and fold into the batter.
4.
Cook 1 Tbsp at a time in a lightly oiled frying pan. Serve with chilli butter.
For Chilli Butter:
1.
Mix all the ingredients together and serve with pancakes.